How to Educate Yourself? 30 Self Education Tips

If you want to learn How to Educate Yourself, you are in the right place. Discover 30 practical self-education tips you can try right now.
Education is an essential and widespread process of learning new things. You cannot learn by drawing boundary walls around you because every person can educate him/herself. It is possible to learn anywhere, whether it is home, imprisonment, business, job, or school.
For self-education, you can follow or create a learning environment and create a schedule. You can learn from any object, place, person, and action, unnatural and natural events. Undoubtedly, self-education plays an important role in personal growth. So, if you want to learn how to educate yourself, just keep on reading.
Why is self-education important?
Self-education means learning in the purest form. You can get insight and knowledge for your personal growth and benefits. An individual may aim to master a subject or get an insight into different subjects and topics. To achieve success in life, you have to focus on education. Technological innovations have transformed significantly for self-education.
There is no age restriction to acquire new knowledge. Self-education is a valuable habit for every entrepreneur and student. You should not stop self-improvement and self-education in your life. It is important to learn ways to implement your knowledge. Filling your brain with new and advanced knowledge can make you experienced and smarter than others.
You will consistently get fresh ideas and materials that others may not find. Make sure to apply your new knowledge in your regular life. Education can give you a competitive edge over others. Self-improvement can bring out your good qualities and make you a new person. If you are regularly exploring something new, you are broadening your view and outlook about life.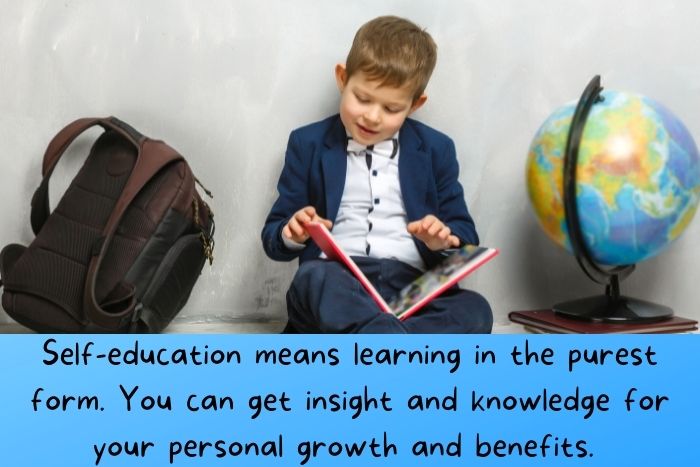 How to educate yourself? Read these practical

30 self-education tips
1.
Personal and Professional Development
The process of professional and personal development can engage an individual or organization in the learning process to meet the desired goals and new challenges. It has connections with the development needs of a person and a group. Remember, professional growth is about gaining experience and new skills.
Your development will be linked to your present role or future role. Personal development has a strong connection with professional growth. If you want to progress in a career, you have to work on your personality development. It will help you to develop your personality and handle your fears. Moreover, you can accept challenges and take on responsibility.
Remember, professional development should be misunderstood. It is not about earning money only to avoid stagnation in a career. Professional development should help you in future-proofing. By expanding your skills, you can prepare yourself for challenging tasks. As a result, you will become valuable to employers. For your professional and self-development, it is crucial to develop clear goals.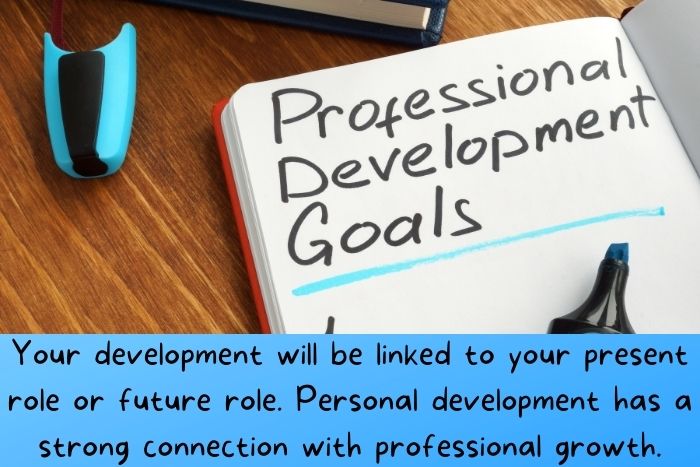 2.
Self-education Plan
Self-education can be an important part of your life. Teaching yourself will be an excellent experience. You can make everything easy with a personalized plan. Here are some easy tips for your assistance.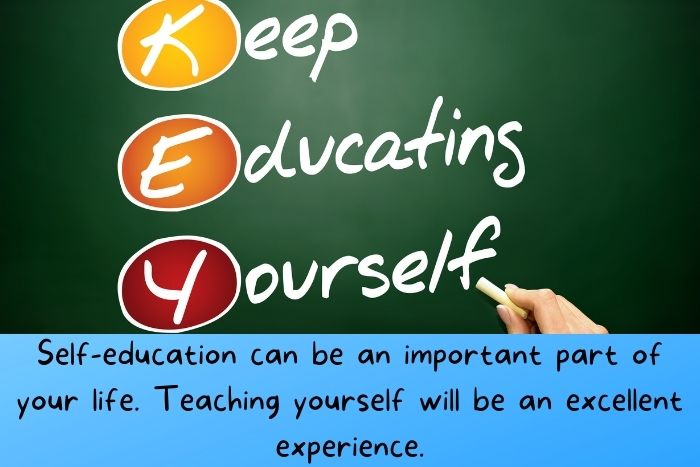 3.
Understand the Meaning of Self-education
Self-education becomes an act of obtaining skills and knowledge without hiring a teacher. You will teach yourself to get extra knowledge without any formal instructions. Feel free to get an education without any formal schooling.
4.
Create a Special Plan
There are some easy steps to create a personalized plan for self-education. Some essential steps are as under:
4.1.
Study Room
In self-education, you will not learn in any classroom. For this reason, you have to designate a room in your home to study. It is vital to increase your concentration. Make sure to arrange all supplies for your study session to avoid any distractions.
You can choose a room without any distractions from your family members. Undoubtedly, teaching yourself will be a great experience, but you have to understand its importance. Your family members may underestimate self-education; therefore, try to convince them.
Teach them the importance of self-education to decrease the chances of distractions. Make your study room comfortable by arranging a chair, desk, pens, laptop, and notebooks. Try to organize everything necessary for your study to avoid distractions.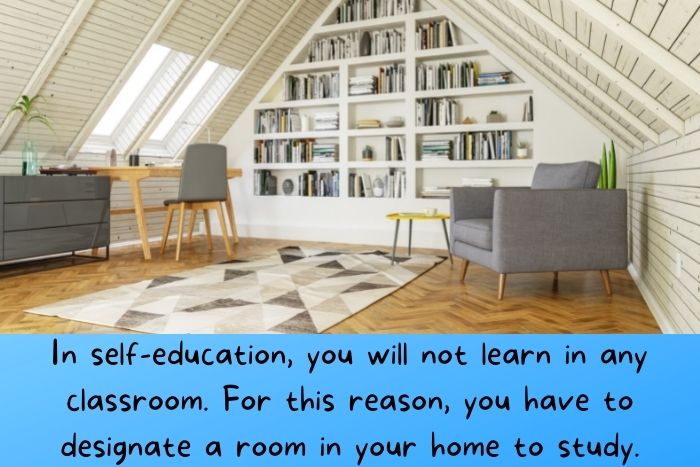 4.2.
Set Your Learning Objectives
After selecting a learning subject, you have to set your study goals. It will be beneficial if you want to learn more and avoid ignoring important information. Make sure to set manageable and realistic goals. For instance, you will need sufficient time to learn a new language and memorize its complex vocabulary and grammar.
You can set a goal to learn complex things about a language because it is a realistic goal. Avoid setting a high expectation in the begging. Remember, failures in the initial phase of your study can demotivate you. For this reason, start with easy and achievable goals. Gradually move to complicated things for the best results.
4.3.
Manage a Schedule to Study
To learn something new, you may need more concentration and time. Initially, it will be complicated to commit to consistent learning each week. Your excitement in a few initial days will end slowly, and you may not find it interesting to educate yourself. For this reason, prepare a schedule for your study and stick to it.
Make sure to schedule your learning sessions for 4 to 5 days per week. Before designing a schedule, it is essential to find the most comfortable time of the day to study. It is important to avoid distractions. Feel free to get some help in managing your study schedule. You can set alerts for your class on mobile to avoid missing any class.
4.4.
Accountability Partner for Learning
It is important to build a learning habit for self-improvement. You have to make yourself liable to study. Remember, self-accountability is not sufficient; therefore, you can involve a close family member, colleague, or friend in self-learning. In case you do not have anyone for your assistance, become a part of an online learning community.
Self-education will be easy with the help of a family member or a friend. Online groups may be a great choice to increase your confidence. You can always observe and learn from the experience of other people and share your own experience. Moreover, you will get some tricks and tips for the learning process.
4.5.
Practical Use of Your New Skills
After learning a new skill, you have to ensure that you can use this skill in your practical life. You can use your new skills in different situations. For instance, if you have learned different tricks of Photoshop, you can use it to modify an image.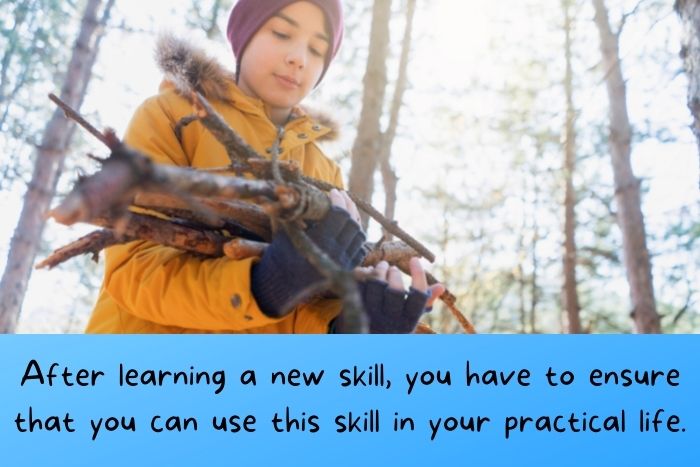 5.
Try Trivia Quizzes and Fun Facts
In self-learning, you cannot ignore trivia quizzes because these are important to improve your memory. Remember, memory is an important part of answering trivia queries. It allows you to memorize useless information. Cognitive exercises are great for your brain, and trivia quizzes allow you to exercise your brain.
If you want to learn new information, you will need excellent cognition. Remember, better cognition can improve your speed to learn new concepts. Trivia questions prove helpful for mental stretching, and it is an excellent exercise for your brain. Interestingly, trivia and fun facts can cross-train your brains. You can get a great deal of knowledge from fun facts and blog posts.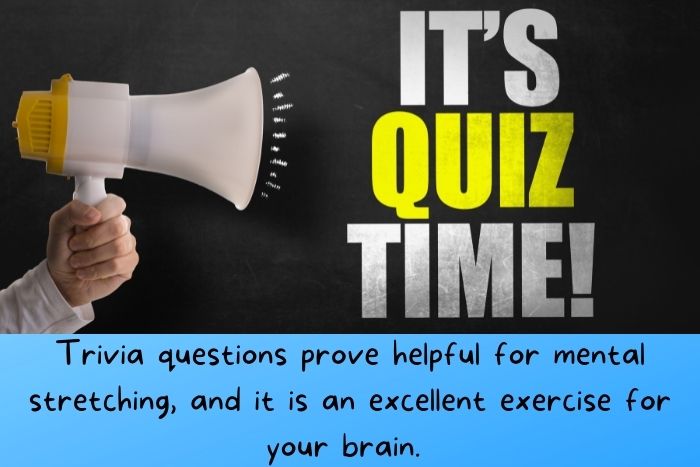 6.
Start Blogging
Blogging is available in different forms and addresses several topics. For self-development, blogging is an amazing tool. It can increase your excitement and involvement in education. You can find blogs on your favorite subjects and try to write your blog post.
It will be a great exercise to increase your creativity. Moreover, it proves helpful to hone your writing skills. You can develop original and unique content to show your creative side. Undoubtedly, it will be an innovative and fun process to combine learning and blogging.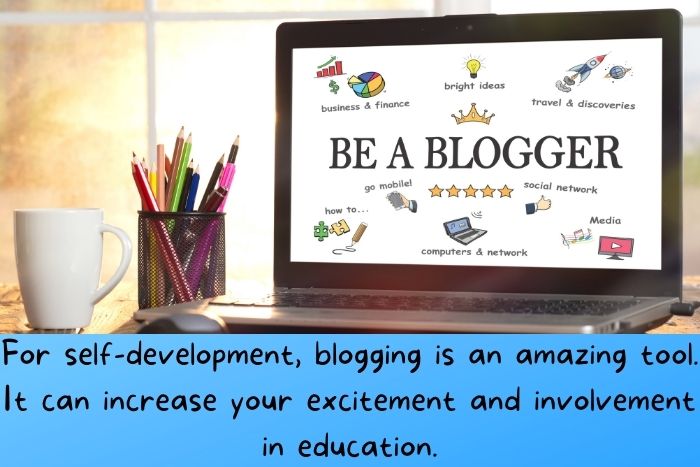 7.
Increase Your Curiosity
Curiosity is essential to learn new skills because curious minds can learn new things quickly. Try to ask questions about different things to increase your knowledge. It will help you to learn unique things. There are no limitations to ask questions. You can ask different queries to increase your knowledge.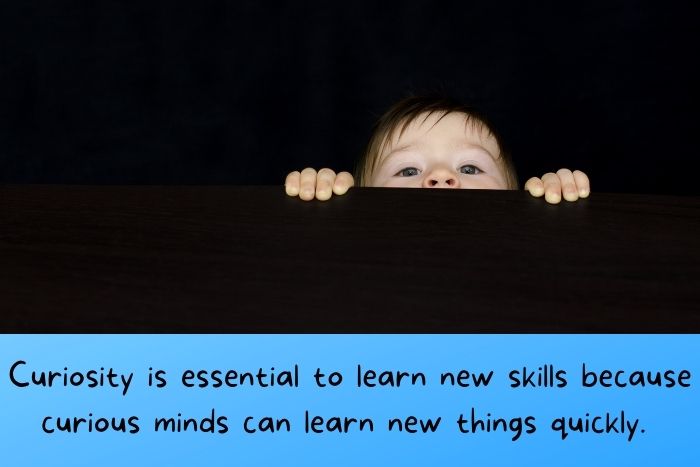 8.
Use Your Observation
You can learn many new things with the help of observation skills. Read books, see things, and try to collect information about them. To expand your brain, you have to come out of your comfort zone and see people around you.
A documentary is better than an action movie to learn new things. If you habitual to read comics, you can try novels. Moreover, museum exhibitions and educational events are useful for learning new things.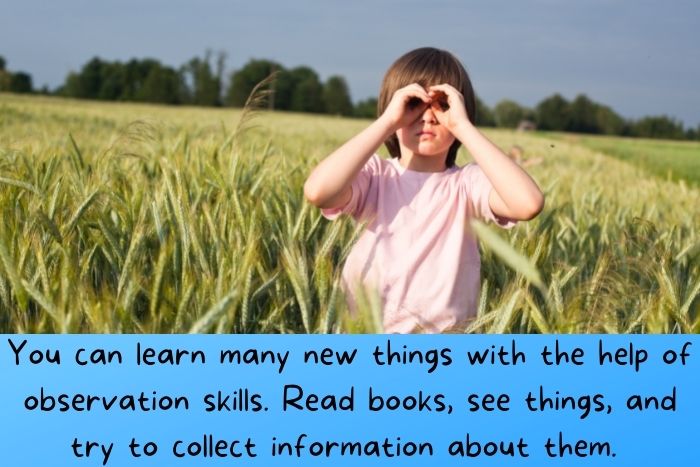 9.
Challenge Yourself
Inquisitiveness can push you beyond your comfort zone. Initially, it will be uncomfortable for you because you have to come out of your comfort zone. You have to study in depth to learn new things. There is nothing to worry about if you feel dumb and unlearned.
It can be challenging to learn new values and beliefs. Instead of taking tension, you must keep pushing yourself to learn new things. By learning new things, you can be wise and intelligent.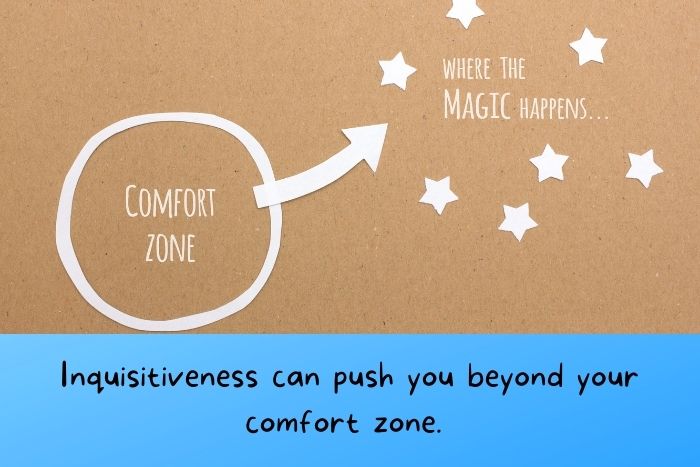 10.
Improve Grammar By Reading English Literature
You can improve your English reading and speaking skills with the help of English literature. It is an easy way to learn about English from different parts of the world. Extend your readings to different parts of the world to expand your knowledge.
If you feel competent, push into different other languages. Remember, learning different languages may immerse you in a new culture. You can get the advantage of new terminology and accent with self-education.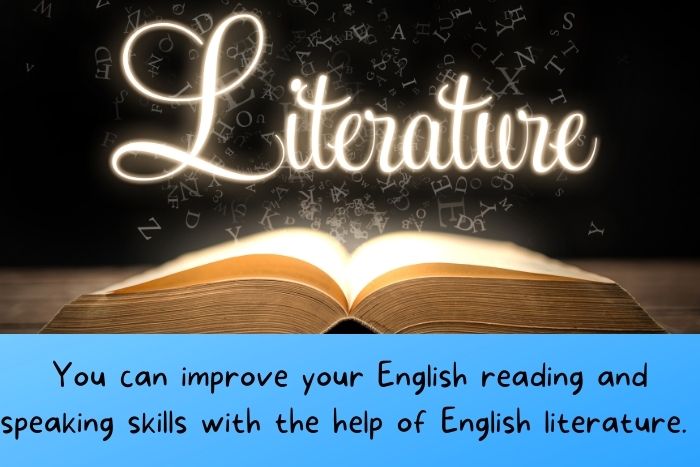 11.
Learn Beyond College and School
To learn the basics in science, mathematics, or any other subject, you have to set your learning goals. After school, you can increase your knowledge with self-education. Self-learning will help you to challenge yourself in a better way. If you have performed badly in a subject, you should not worry because your brain can rewire and relearn things.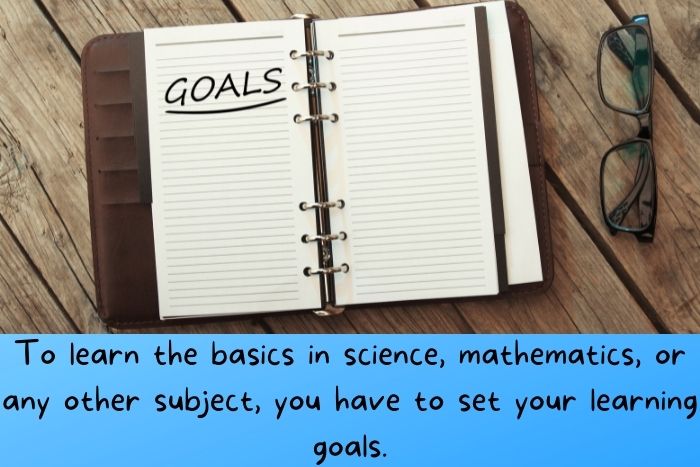 12.
Blogs: Great Medium to Get Started
If you want an awesome medium to get started, use blogs. Several inspiring and smart people regularly post their ideas and work on blogs. You can learn new habits and tricks to become rich in your life. Online courses are available to learn new things without a college or university.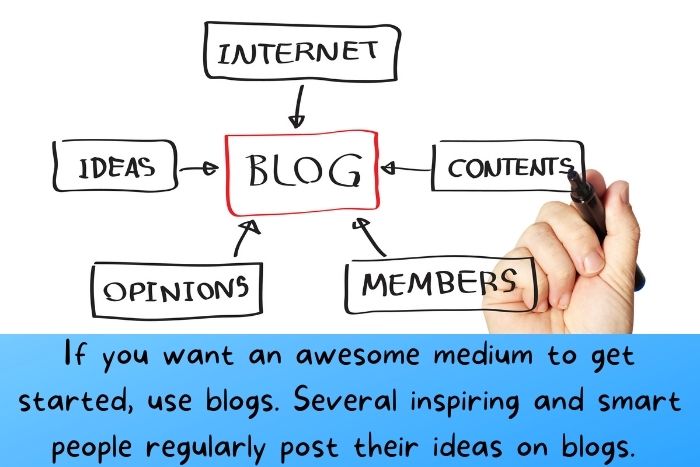 13.
Self-evaluation
Before you start an independent study routine, it will be beneficial to conduct your self-evaluation. Focus on the current situation, support system, family, and lifestyle before selecting a self-education routine. If your previous experience is not good at keeping up with deadlines and lessons, you have to consider these incidents during planning. It will help you to avoid bad situations. 
14.
Daily Reading
It is an important suggestion to improve yourself. You should develop a reading habit for almost 30 minutes to 1 hour daily. Feel free to set a daily reading habit before bed. Reading proves helpful to develop long-term skills. Try to make it a lifelong hobby. Daily reading proves helpful for children to decrease their stress and improve their attention span.
Speed reading proves helpful to boost self-confidence, increase focus, and improve memory. It is an important exercise to make your brain strong.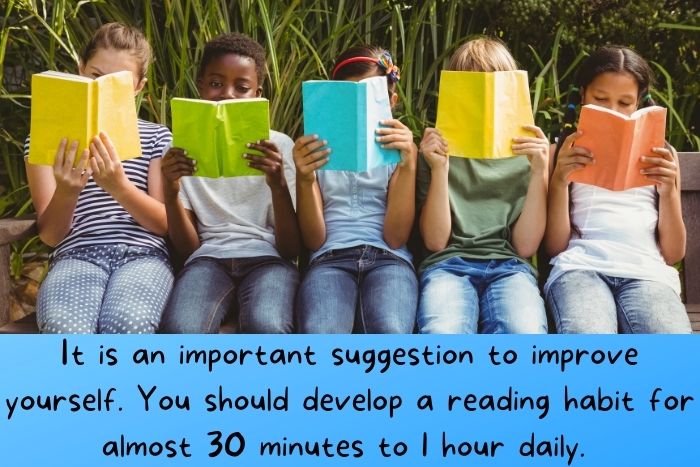 15.
Set Goals for Professional Development  
Make sure to set a goal for professional development because it is important to get more experience. There are several career goals to achieve based on your interest. Professional development goals can improve your motivation and skills. Feel free to combine personal interests with performance goals and skills.
Set your career development goals to encourage better skills. You can learn sufficient skills for a job promotion. Professional development goals can increase your productivity. Self-education will be a great way to prove your worth in front of your employer.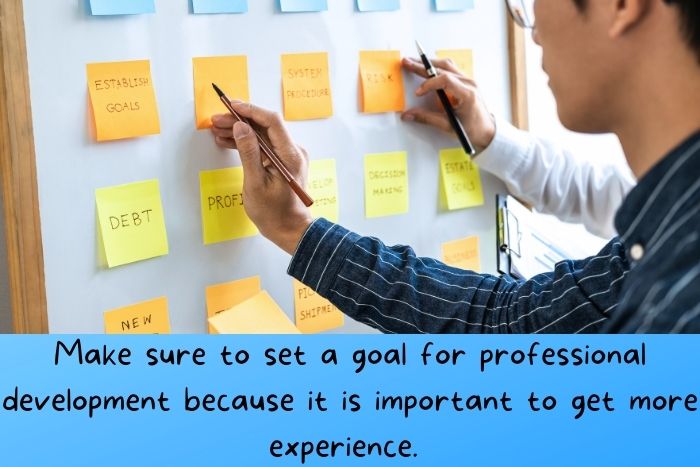 16. Learn More Things about Job
For self-education, you have to focus on your work. Take time to understand different things around you. Instead of going with the flow, you can learn new things. You have to do some research on your company and projects.
Try to find different opportunities for learning and growth. You can do some research on your projects after job hours. It will make me look like an expert in the field.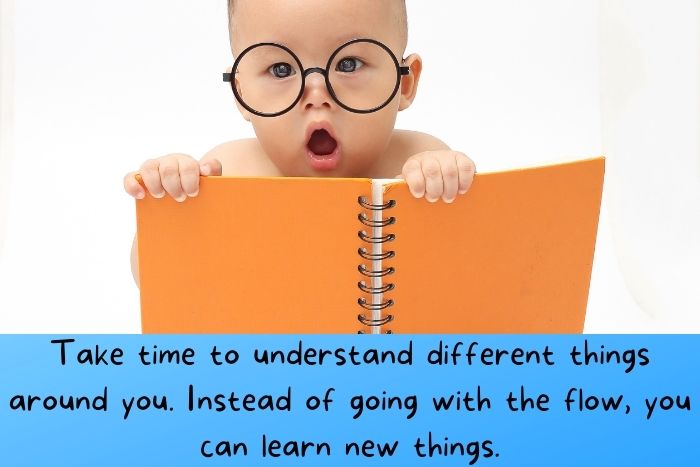 17.
Stay Updated on Industry News
Self-education will help you to stay updated in your industry. You have to keep an eye on new developments and current changes. Online magazines, blogs, websites, and other sources can keep you updated about the latest events.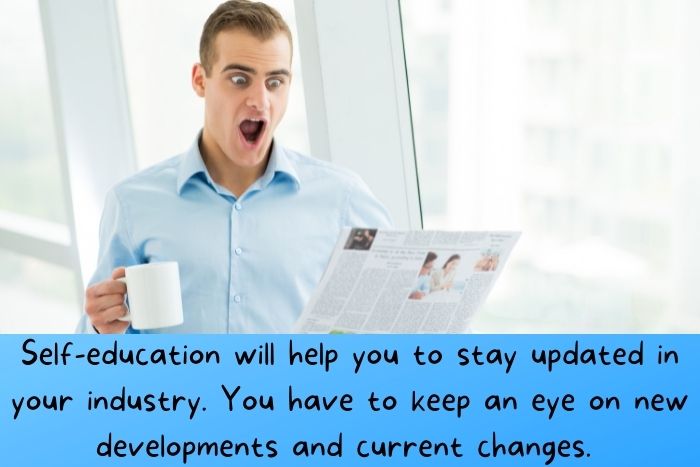 18.
Download a Dictionary
To improve your vocabulary, you have to download a dictionary on your mobile. It will help you to get the meaning of difficult words. Remember, you can improve your skills and knowledge by reading a dictionary.
Textbooks and important materials may be written in the intellectual language. You can use a dictionary to understand the language and meaning of different words. Moreover, a dictionary proves helpful to challenge yourself with new English words.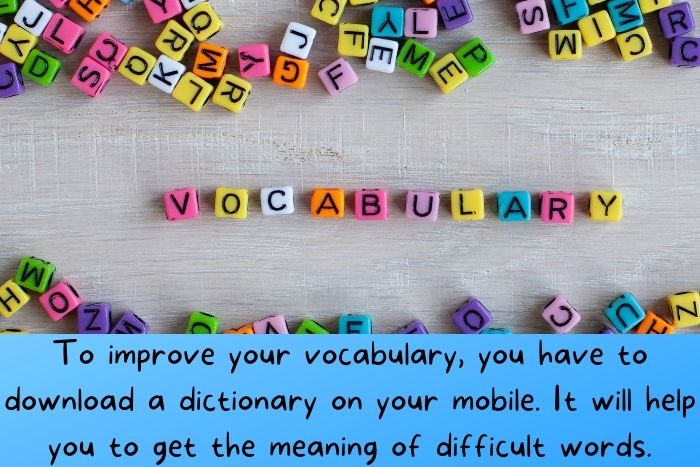 19.
Take Important Notes
For self-study, you can highlight important concepts. It is possible to manage all this in different ways, such as:
● Neon highlights will help you to take notes for your physical books
● Take notes in a notebook or specialized journal
● Use the bookmark and highlight feature on an eReader
● Download note-taking apps on your tablet or phone
Your brain may not remember everything; therefore, you can take notes to make your life easy. Online tools are available to make your life easy.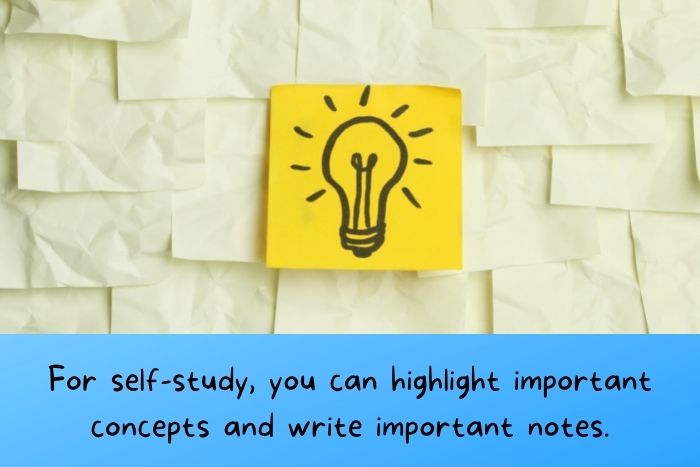 20.
Use Different Mediums to Learn  
After setting your personal growth goals, it will be easy for you to choose the right medium of study. Different mediums are available, such as books, journals, articles, seminars, documentaries, etc. Furthermore, you can enhance your knowledge with educational podcasts and videos on YouTube.
Educational materials are available in different niches. Different educational documentaries will help you to learn new things. Several productivity and motivational podcasts can empower your learning experience. A few learning styles include aural, verbal, physical, logical, solitary, social, and visual.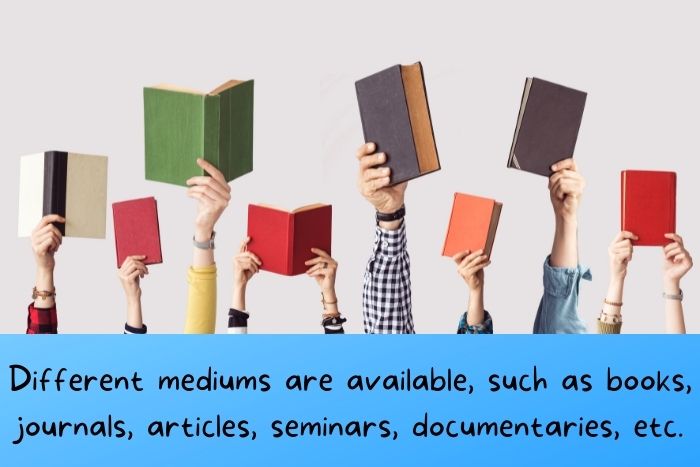 21.
Sandbox Method
For self-learning, the sandbox method is pretty impressive. Remember, self-education is a consistent process. The sandbox method identifies that you do not need to memorize formulas, facts, and several other facts. The method proves helpful to develop a deep understanding.
You can expose yourself to information about particular topics. Build a sandbox because it is cheap to do. Do your research about the learning area and practice your skills.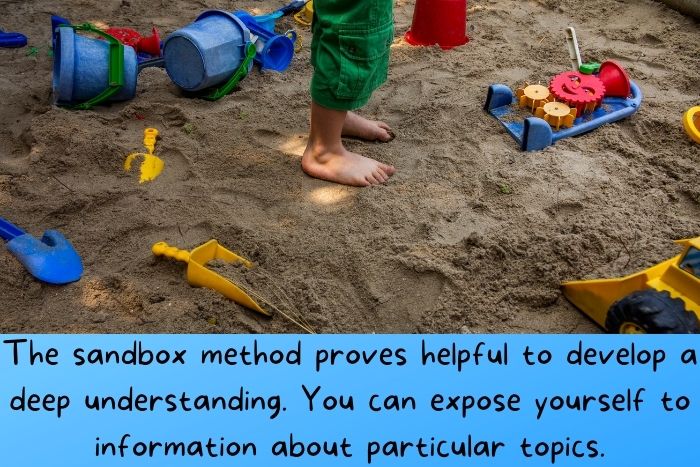 22.
Consistency is Important
Scheduling needs you to evaluate your regular routine and organize it in the best way. It will help you to select the best time to study. After creating this schedule, you have to follow it consistently. Undoubtedly, consistency is an important skill for self-learning. You should invest your time in this process daily.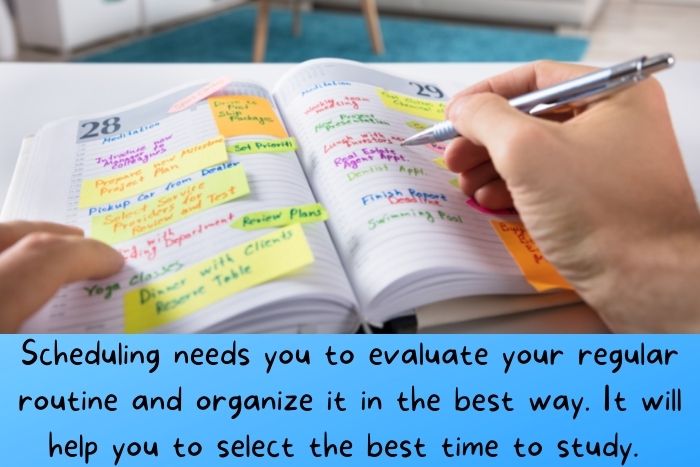 23.
Set a Study Ritual
A ritual proves helpful to set your mood for study and build important habits. Make sure to start your learning ritual with the organization. Organize all the important things that you will need during your studies. Some people like to make a cup of tea before self-education.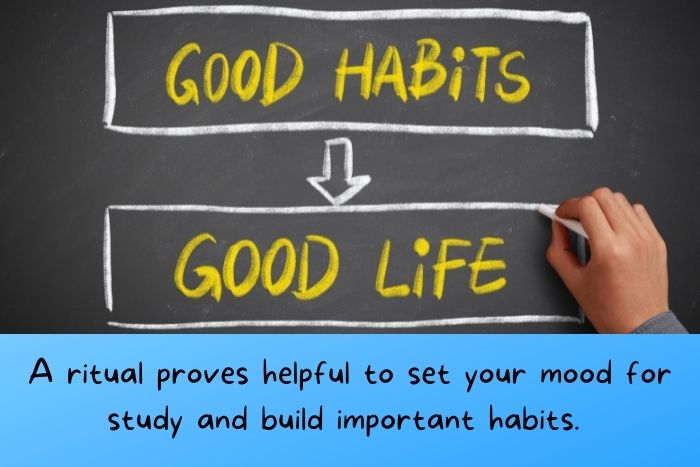 24.
Study at Workplace
If you can arrange a time to study at the workplace, feel free to adjust a routine for it. Make sure to keep your workplace clean by removing unnecessary and distracting stuff. It will help you to spend some hours in the study without any distraction.
25.
Increase Your Focus
By increasing your focus on study, you will be able to reap its benefits. If it is difficult for you to focus, you should eliminate all possible distractions. For instance, turn off notifications on your phone. Stay away from children because they can disturb you.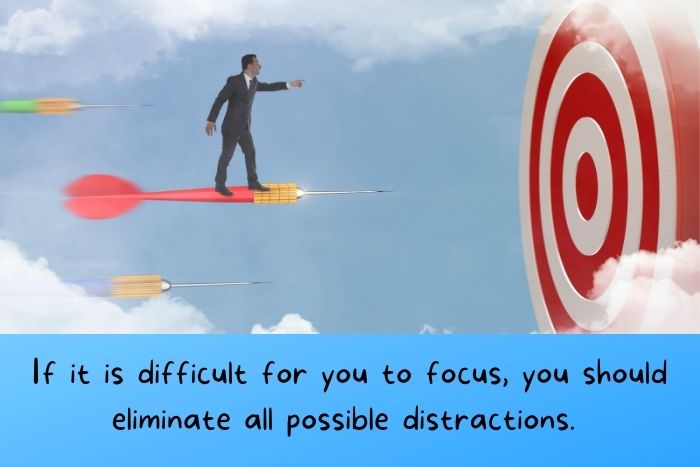 26.
Frequent and Short Study Sessions
Remember, you have to complete your study in relaxed and short sessions. A study process is not a marathon; therefore, you should break up study materials. Instead of staring at your books and computer for a long time, you can take short breaks. These will help you to increase your brain and focus. Cramming may seem like an excellent way to cover study material in a short period. Make sure to break your study routine into small sessions.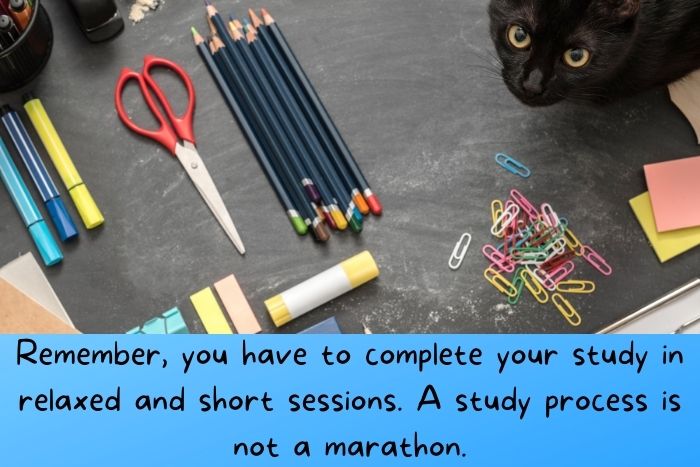 27.
Prepare a Study Environment
If you are learning remotely, you have to create a special study space. By designating an environment for self-study, you can easily complete an online course. This setup will help you to avoid procrastination. It will become easy for you to manage a routine.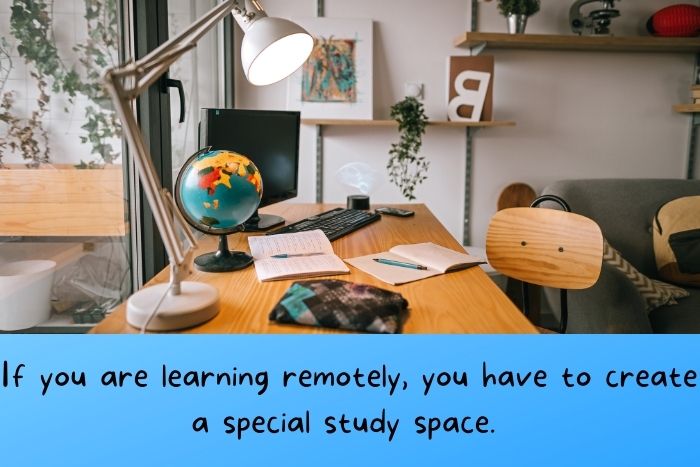 28.
Evaluate learning
Remember, self-evaluation is an important part of learning. Based on your preference or subject, it is important to establish new study patterns. Make sure to select a deep approach for self-learning. It proves helpful to understand a subject through applications and examples.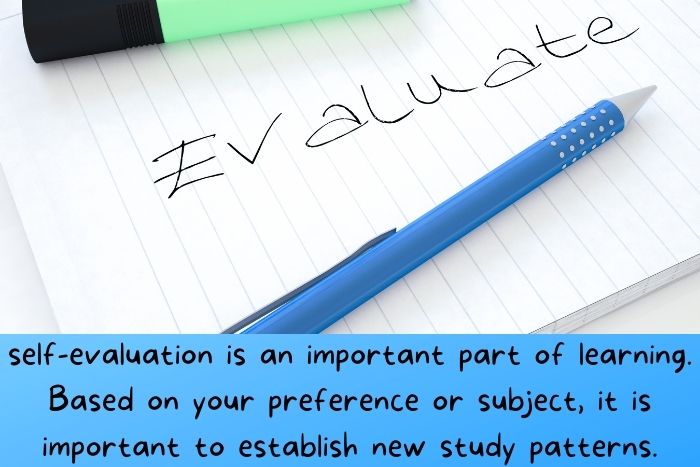 29.
Understand Your Weak Points
Everyone has some strengths and weaknesses. You have to identify them before self-education. To enhance your learning experience, you should understand your weak points. Focus on improving these points instead of reviewing your complete study material.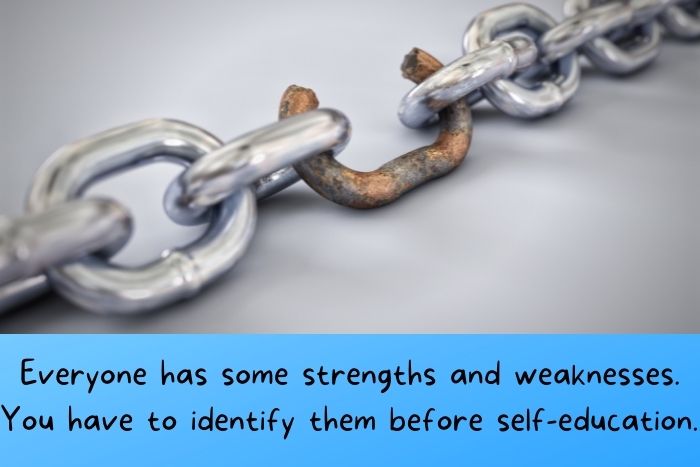 30.
Learning Can be a Lifestyle
You can make learning a part of your life by including it in your lifestyle. If you want to master something, try to surround your life with it. For instance, learn a new language by watching videos. Moreover, you can evaluate poster ads, billboards, and other things to learn graphic design.
Self-learning will be a serious and important process. You can make it interesting by trying different ideas. New learning methods and online study sources can give you a competitive advantage.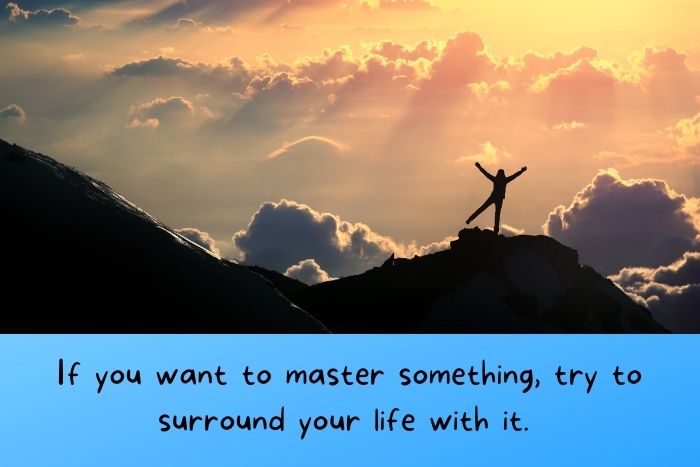 Conclusion about self eduction 
Self-studying is an important tool to improve your learning experience. You can reap the benefits of studying at home to improve your professional and academic skills. Technology has put your knowledge at your fingertips; therefore, it is easy to educate yourself.
Try to manage your time and stay productive because these are important parts of self-education. You should not lose your focus because of distractions. Make sure to set a study schedule to follow regularly.
To spruce up study sessions, you can use color-coded calendars, visual aids, and other apps. These will help you to stay focused. Self-learning may not be a lonely process. You can join online groups or ask your friends to partner up for motivation. Moreover, it will increase your urge to find energy and time.
Partnering with someone may allow you to enhance your knowledge of different subjects. It is a reliable way to get feedback from others about your performance. Moreover, you will be able to identify your weaknesses and strengths.