Funny Trivia Quiz Team Names

Do you also wonder how a few quiz clubs have those funny and clever names that just sweep you off your feet? This time, we are here to help you have the best trivia quiz team names of your own. We aim to invite attention, evoke familiarity, and try capturing a few smiles on the way.
We curated a list of fresh, innovative, engaging, and mind-boggling names that you can use. This list will help you build up a bubbling excitement in your participants, along with the curiosity to know what is next in the box of surprises. Quirky names make a statement about the type of atmosphere a trivia quiz would create and work as mood-lifters if participants seem too competitive or nervous. By the way, if you are looking for some trivia quiz questions or trivia quiz games with a clock counter - you can find them all here on Quiz Beez.
 The essential part of the Trivia Quiz is to make everyone amused. Starting with names that remind people of any familial incident is the best way to ignite conversations and encourage hope. If you are hosting a trivia night or have a trivia quiz related to a particular subject, building something around that topic will be great. A pinch of wit, along with a reasonable amount of humor, always takes us a long way.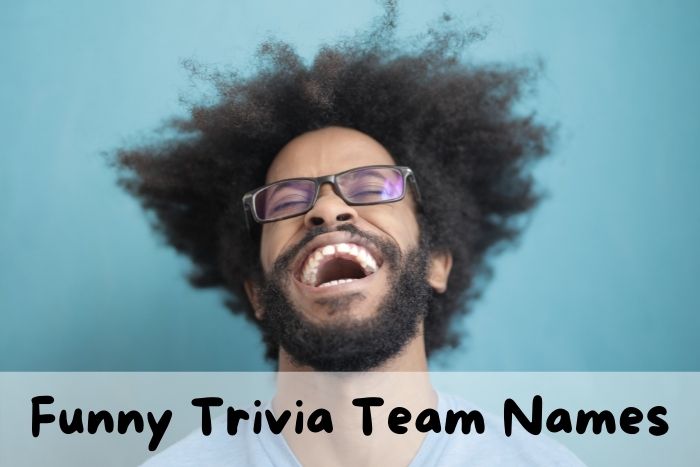 Funny Trivia Team Names
Do you know what is funny? Everything factual. The best way to be funny is to be brutally honest about yourself. Well, do not be shocked. Where else do you think Chandler's wit came from?
We jumbled up unobvious emotions with facts and figures to produce a result that is fresh, funny, and wacky. Only for you, we choose to share our humor! OH, you can download for free our funny trivia questions and answer printable version.
Grossbud

Microsoft Awful

Gutter is Precious

Miss me, Dirtlock?

Couch ButIhateyoutoo

Rainbow

Butter Bitter about you

Ancient Society, Anxiety

Sleeping Kills

Lap stands

Tastes like feet

Merriam Web stirred me

Spoon full of guilt



Funniest Pub Quiz Team Names
You must attract a broad audience and be inclusive of the maximum number of people. The definition of the word "funny" varies from person to person. For the funniest pub quiz team names, you have to make sure you use generalized ideas that can reach out to many people.
You might appropriate ideas of popular culture and serve it with humor and skill. Before you start testing the General Knowledge of the crowd, it will be useful if you make them more comfortable by evoking laughter.
Cocktails you win

Allfakes

High scale devour

Cease and Summer

Proper Tea Rights

Blue Mood Mojito

Quiz Master, Go-Go.

Blood in hands

Card in a tale

Ring me in ten.

Brave Pull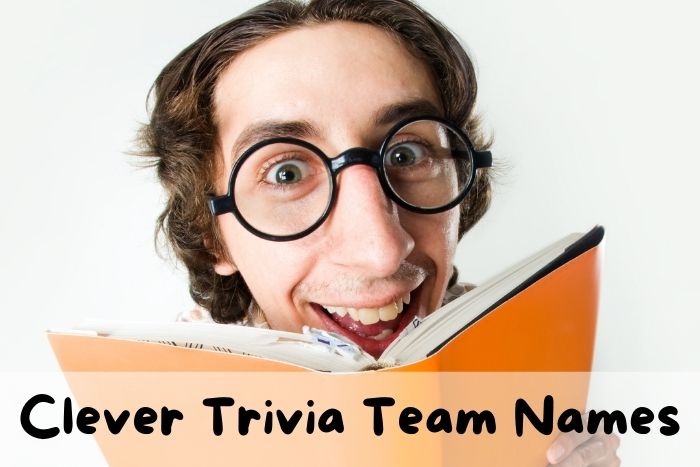 Clever Trivia Team Names
Have you ever had the chance to read Shakespeare? Have you heard about Shakespeare's wittiest duo, Beatrice and Benedick? Well, these characters from Much Ado About Nothing have been known to be in a "war of wits" until they fall in love. That is how wit and cleverness works.
 Make quick remarks, make logical statements, and flaunt your skills and general knowledge. Clever Trivia Team names stand out and produce intellectual stimulation in individuals. They are deemed to join in and start their journey of getting smarter when these stunning names call them.
Witty Wonka

Head High Web

Resist-the-gram

Face it, Brook!

Liar, I am on fire

Create, then hate

You will lose, that's what Greece said

Philosopher's Tomb

Princess on a Jog

The Debater is Debarred

Dumb Rules

Game of inches

Surprise! Heads High


Christmas Quiz Team Names
Holiday vibes are underrated, and you have to agree. It just makes you fuzzy and brings back all the memories of the past. If you are on the look for a warm and engaging vibe, why not try Christmas Quiz names?
These names are full of compassion and love, along with funny elements inherent in their sense. You can make them sound pleasant or play around with puns and rhetoric to bring the best Christmas Quiz Team names. Oh, and don't forget to download (free) the printable Christmas quiz. And you can also play some holiday trivia quiz games.
Quiztina

Marry me

Joseph in me

Lucid snow

Toughen me

ChristSoFar

Geoffrey Wintercloud

Snore? Didn't.

Decorate the tree with lies

Who is the Santa this holiday?

Redman unjustly packed with gifts

Snowfall enthralls

Candle Lights and Adventure

Fairy Lights and Homecoming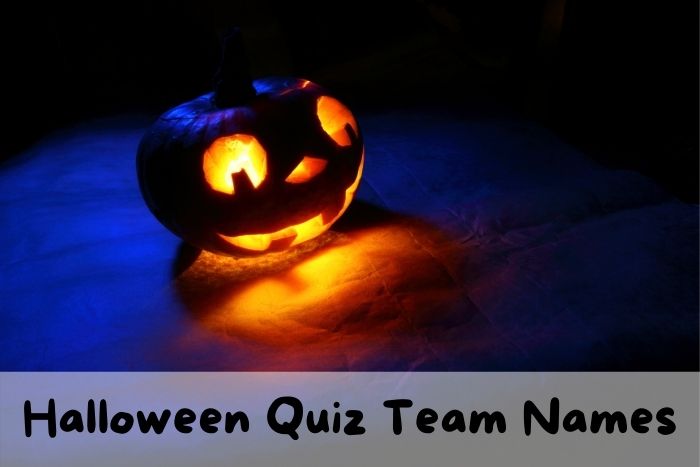 Halloween Quiz Team Names
What if you delve into the intrigue factor? Create some spookiness around you by challenging the thought process of your participants. Just when they thought they would be warmly welcomed, the atmosphere turned dark, mysterious, and fascinating.
Halloween Quiz Teams are just too charming for an audience to stay away. Everyone likes haunted elements in their life. Before we check the wisdom of our crowd, let us give them the nervousness, which seems just as welcoming as a hug!
Spooky Pumpkin

Witch who never died

Wizard of the nonsense

Hello Kween Cakes

Mid-Night Snore

All hellos, its Eve

Black well wet night

Selling soul to Blood

Dress up as snake

Who is the vicious one?

All Scents Nice

Ghost in the Bathroom

No costume for treachery

Liars may dress up as truth

Stranger things in your pocket

I am dressed up as human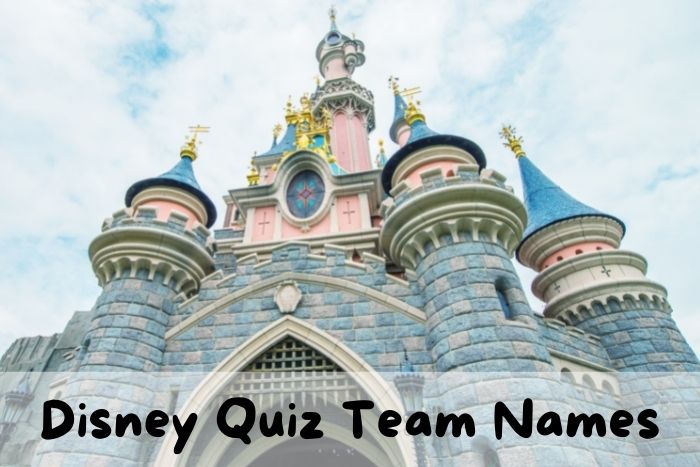 Disney Quiz Team Names
Disney characters should be awarded for being the best conversation starters. Why not give people something that they lost in the way? An overload of cuteness packed with an adult sense of humor is all you need to make the best team names.
Now Donald Duck is cuter than most other Donalds we know of! Let us use these lovely little memories of the past as our muse before we venture into crazy trivia and choose a Disney trivia team name. They are sure to keep your audience as well as participants entertained.
Cheater Pan

Mickey Might be Aroused

Donald got drunk

Winnie The Poop

Popehauntsus

Goldie locks what? Three Bear

Little Red was on foot

Alice and the stupid rabbit

Pluto and the Loafers

The Woodland pooped tons

Dekskie is a rapper

Oh, What a night!

Beauty and the Feast

Oswald's lazy habit

Power of Girls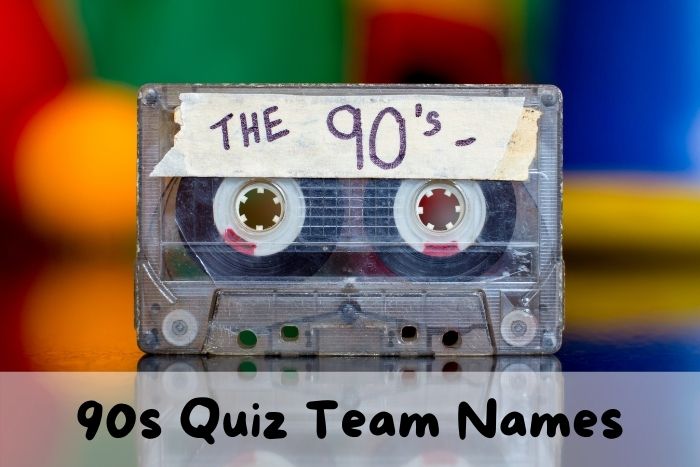 90s Trivia Team Names
This one is my favorite. Certain moments in history are too eventful to forget. Dig such episodes out and use them for something less severe and more positive. You may even want to appropriate the popular culture of that time to coin hilarious and weird names for teams.
When you choose a naming practice like this, you are sure about the fact that most of the widespread occurrences of the past have not left the mindscape of individuals. By picking up names from this list, you establish a connection that will bind you and your participants, with all the other participants, with a chord that connects all. You shared culture, and you deserve to reclaim it.
It's all coming back to me.

Peace off, my heart.

What no, whose turn?

Meh Dunno.

Who will save your soul?

Moonwalk on floor

Spice Girls

One Sweet Day

Jack and Rolls

Boys are who?

Dazed and Confused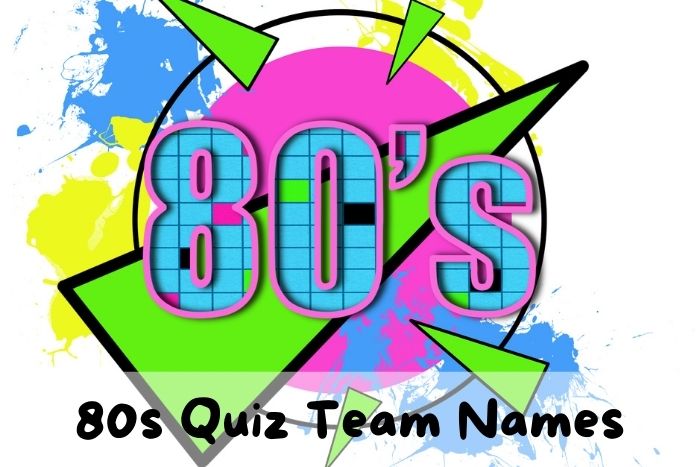 80s Trivia Team Names
What was so special about the 80s? I do not remember, but do you? This timeline grants some fantastic opportunities to create new names by going back to the old. It is not that common a practice, and it is a strategy that will make you different as a host. People always remember times when they are introduced to something they had long forgotten, all over again. Let us get smarter and use this unique naming style.
The Breakfast sucked

Dirty Don't Sing

Don't come to America

Host but human

Top Fun

Die Heart

Bravely got caught

Another day the Pharaoh dies

Gimme all your Money

Edge out the broken heart

Walk in the music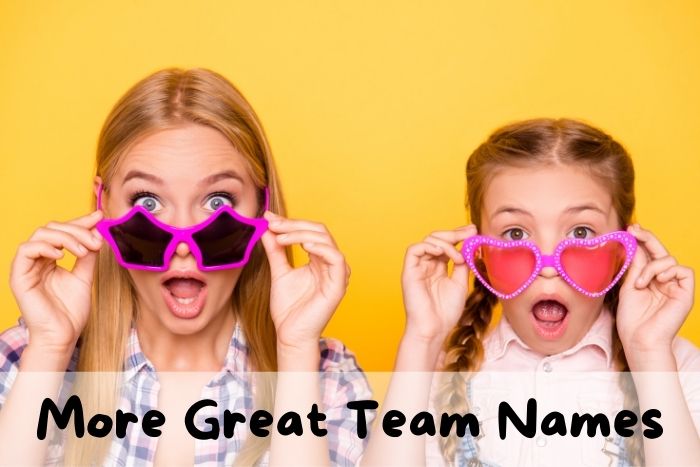 Some more good Trivia Names
We are never out of ideas. If you need quick names that are casually interactive, here is a list for you of good trivia names of good trivia teams. These names convey vibes that stick till the end. The names are funny, warm, and fascinating. Pick your likings now.
Richly Sick

Looking for a lone sky

Quiz Thief

A thousand splendid guesses

QuizNight: A new beginning

Quiz Potter and the Chamber of knowledge

Quiz It Up

Mark it Quiz

Back up the teammate

Group of underdogs

Yellow and you win

Half-blood rinsed

Winter Lone Nights in Club

Smartest one is fooled

The right question and wrong answer

Life it up with questions

Who is the fastest liar

Quick Quizzer Quit

Murder the Pretender
Have these funny and clever names swept you off your feet? We will share the thought behind it. We are a trivia freak. The general awareness and fun elements are intrinsic to our states of being. The world of trivia quizzes is so exciting that boredom cannot enter. If you loved this post, don't forget to check other amazing blog posts.