Edutainment Meaning - What Is Educational Entertainment?


Do you want to improve your learning skills? Or maybe improve your teaching skills? In any case, Edutainment is a great method! Like it or not, education and entertainment have a long-established relationship. The funny thing about the relationship is that it's ambiguous. At times they like each other and progress well, but they will only tell you that they are "only friends" even though they don't behave so. On the other hand, they are bitter rivals, jealous rivals- education is not fun while entertainment is not that serious enough. In other words, they conflict with each other.
Edutainment meaning is Educational Entertainment


This leads to a common term in education arenas, edutainment. What is edutainment? Edutainment, or portmanteau as it's often referred to, is a combination of two words, education and entertainment. Therefore, edutainment meaning is a form of education whereby teaching is done by encouraging social collaboration between teachers and students through incorporating education with the latest entertainment platforms and devices such as radio, television, music, film, PC, mobile applications, computer games, Learning Management System (LMS), multimedia, and virtual reality and others.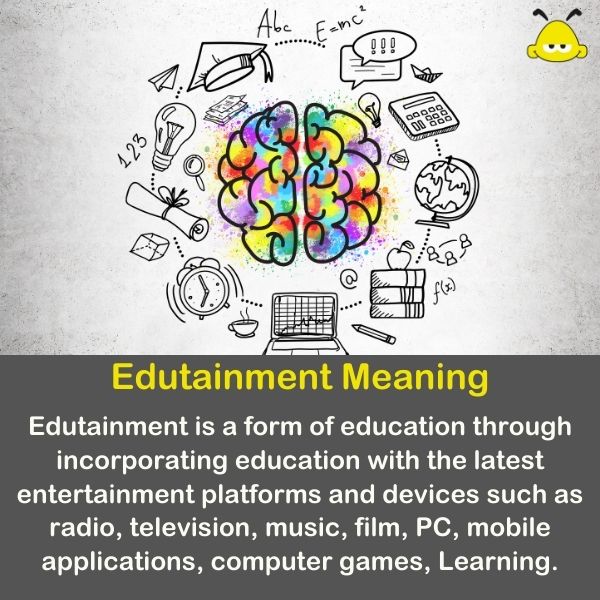 Relationship between education and entertainment
Education and entertainment have mutual affection, but the two don't share the same objectives or goals. Education's primary purpose is to cultivate responsibility, maturity, growth, and knowledge. Quality education prepares one for employment, good citizenship, and a more meaningful human being. But on the other hand, entertainment is purely after amusement. Education has no space for meaningless fun.
Now that the two are walking on different paths, what should be done? Should people throw their hands up and surrender and leave them alone? The answer is straightforward; the two approaches can intersect and merge to form one of the best educational components. Once education and entertainment overlap, the classrooms will have a rich and profound learning experience. This is evident in educational games and toys.
Multiple scientific pieces of research confirm that games and toys are very educational. And this is not about spellings bees, coloring books, and cheesy "Fun with Numbers." It's about simple games and toys that are exceptionally fun for even the squirmy and restless kids. You can read more about it on our blog post - how to get smarter?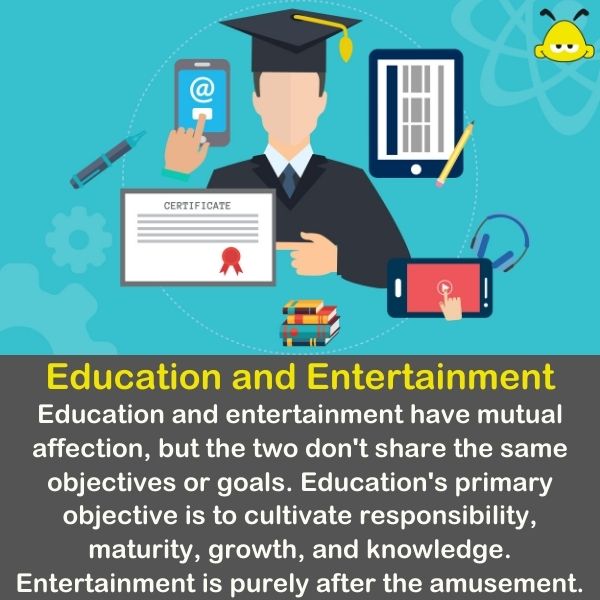 Entertainment Education Examples
Now that you have known the meaning of edutainment and the relationship between education and entertainment, you should know the tools that can be used to facilitate edutainment in the educational arenas. What are some of the practical tools for edutainment?
1.

Trivia quizzes as the perfect edutainment


Trivia questions such as Quiz Beez improve brain health for adults. But when it comes to young kids, trivia questions and games enhance memory, boost cognition, help the brain perform when under stress, and reduce stress. The instructor should be strategic with the questions when dealing with the students. Meaning, he or she should gradually start with simple questions.
Science-based gamification in trivia quiz games 
A lot of research on the gamification field explains precisely how the gaming method can enhance learning skills and encourage persistence. In education, the reasons for drop-outs or low performance include boredom or lack of engagement. Gamification increases motivation and engagement (Gamification Of Education).
If you want to start a journey of educating yourself, getting smarter, and improve general knowledge we encourage you to.. Play trivia!
Check out our huge trivia collection or play history quizzes of Geography quizzes.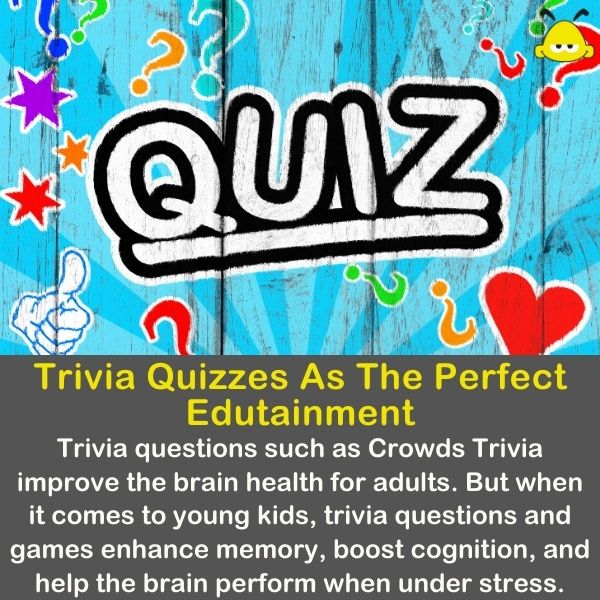 2.

Jigsaw puzzles
The tool is excellent when it comes to edutainment. For ages, jigsaw puzzles are timeless. The equipment combines engineering and art to create intriguing problems that need answers. Puzzle lovers know how good a challenging puzzle is, a stumbling block to conquer, hence, providing an opportunity to be creative to maneuver the obstacles for the end goal, which is to conquer the world.
Some researchers refer to jigsaw puzzles as a metaphor for life. They argue that the puzzle presents chaotic arrays of random pieces like the world, but every piece presents a challenge for a more meaningful picture. Only the patient can reach the top levels and bring order. All that is required is little perseverance, and the player will appreciate his or her effort at the end of the challenge. Therefore, it can be argued that jigsaw puzzles install the patience virtue in kids.
KidsHealth states that jigsaw puzzles are valuable educational materials for preschoolers from age 3 to 5 because it helps to train spatial relations, dexterity, and logical thinking. Jigsaw puzzles are also useful essential educational components for older children and adults since they can train brains on attention span, fine motor skills, and engagement.
In this dispensation of fast, interactive technology, schools are advised to counterbalance this tendency with intentional exercises that reinforce focus and attention timelines. And jigsaws are the best tools when it comes to enhancing such critical skills.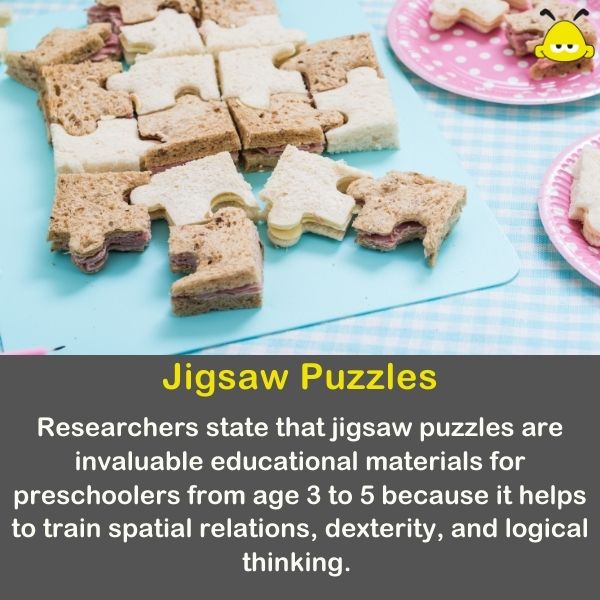 3.

Extracurricular activities
Sports, recess, or physical education is another edutainment tool. This because recess, sports, and physical education teach students important aspects of life such as teamwork, self-discipline, spatial recognition, goal-setting, healthy self-esteem, communication, hard work, coordination, and body awareness. And also, athletic efforts are an outstanding stress reliever.
It should be noted that sports have a myriad of benefits to the students. According to Kathryn Watson's report "The Mental benefits of sports," athletic students compared with non-athletic that are more into sports are less depressed and stressed, have an improved concentration, fewer weight problems, sleep better, excel in class, and offer to the school and the society at large.
However, also, not all students are good at sports. The educational advantages of sports will vary among the students. This implies that the sport itself can be fun, but the entertainment value differs from one sport to another and from student to student. Therefore the instructor should be keen on all the kids to ensure that whatever is used is helpful.
Nevertheless, sports provide energetic kids with a conducive learning environment. They don't have to shut up and sit down. Instead, they can move around, play, and shout. They can learn multiple things with an organic, interactive 3-D gaming environment.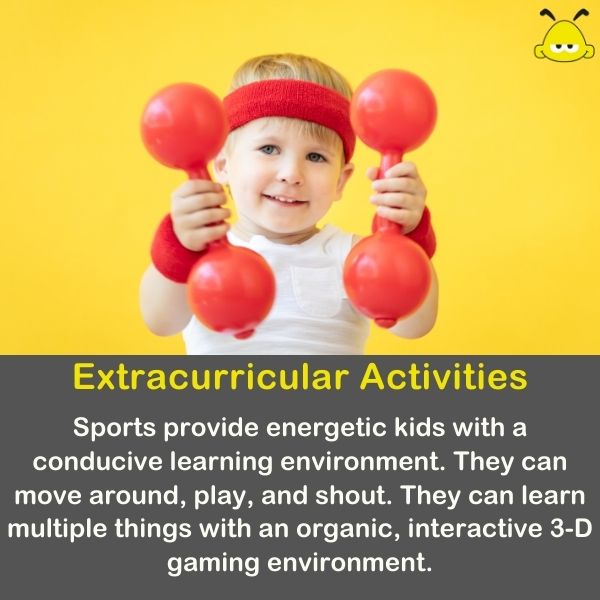 4. Videos
Videos are a great way to learn anything in an engaging and interesting way. Videos can include amazing visualization, images, text, people talking, video clips, music, and much more. Video can also be very interactive and give the viewer opportunity to play or participate and feel part of the action in the video. For example, these trivia quiz videos are super engaging and can be a super fun educational experience. Youtube is an endless source of many great videos that can teach you anything. Check out our trivia quiz youtube channel for more trivia fun, answer trivia quizzes, and learn fun facts.
5. Legos™
These are construction toys that have toys from Denmark. They are other top construction toys such as Tinkey Toys, Erector sets, and K-Nex, but none can beat Legos. This is because Legos comes along with loads of benefits. This includes engineering, motor skills, spatial recognition and reasoning, and problem-solving skills.
Most architects, such as Adam Reed, refer to Legos as one of their childhood inspiration architectural tools. Lego also targets adults with "Lego art"; you can be one of the Lego competition competitors.
Lego can be used as a therapy and counseling tool. Children's counselors have alluded that Lego therapy, which is play therapy, boosts socialization and communication and can heal grief stress. Dr. Dan Legoff intermixed the elements of social rules and played therapy using Lego among the autistic students, and the results were outstanding. The method is not complicated; all you need to do is to invest in Lego sets. Therefore, it comes to your attention that legal therapy is one of the greatest ways to make a breakthrough for uncooperative, socially awkward, or autistic students.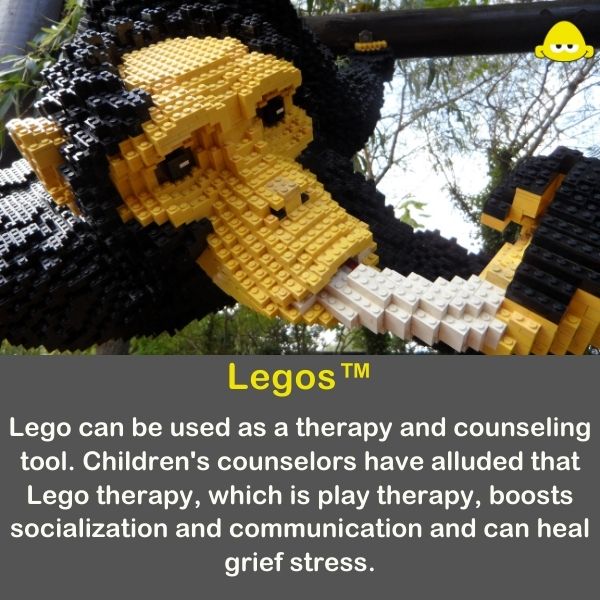 6. Chess
Among various games, Chess is the most proven educational games. According to various studies, Chess enhances memorization, reading scores, creative thinking, math scores, and overall learning ability.
What makes the game so vital? Why should teachers consider using it in the classroom? Patrick McDonald came up with the following seven reasons:
a. Chess offers greater quantities of problems for learners to solve.
b. The game offers instant punishments and rewards.
c. Chess-playing students get accustomed to a trait of looking for an opportunity to score more using different alternatives. This trait can be captivated across all the disciplines in school, home, and society.
d. Chess's competition boosts mental alertness, fosters focus, challenges students, and inclines the spirit of achieving the highest levels among students.
A learning environment that includes Chess games has a positive and enticing effect on students' attitudes on education and learning.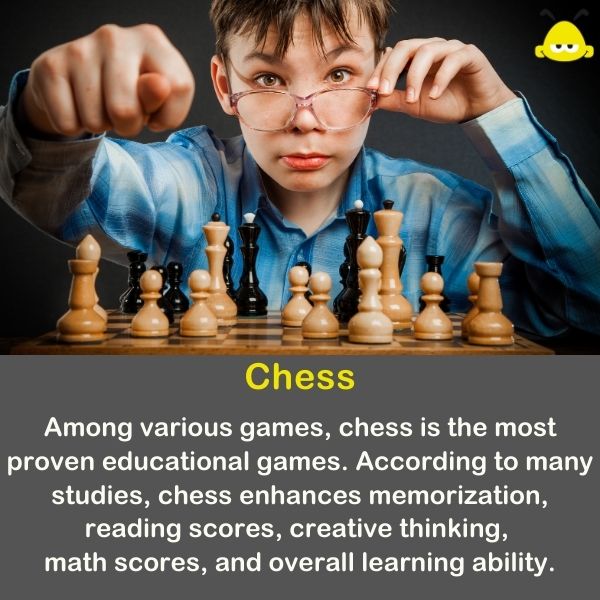 7. Scrabble™
Another iconic game that has become a regular component among students is scrabble. The game is known for training the player's vocabulary and spelling, and also arithmetic skills.
Benefits of edutainment
Edutainment is very special to various types of learning. We should note that when it comes to learning, kids' leisure plays a significant role. Kids would only love and type of learning if it's fun. And it could hate any learning if it seems to be boring. Below are some benefits of edutainment.
1.Engaged learning
The approach enables the teachers to keep the students engaged throughout the learning session. Kids access more learning information quickly, and homework sessions are exciting if they play a fun game or watch a video that is part of the task. But don't assume that kids will grasp the required content without a fuss because of the edutainment materials. It takes time and effort; kids are prone to mistakes; therefore, teachers and parents should appropriately guide them.
You can also add to your engaged learning pieces great fun facts about many topics, as you can find in our fun & educational blog.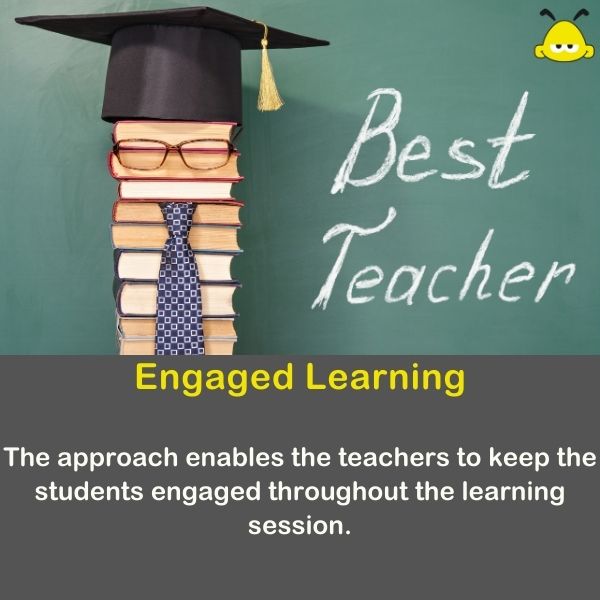 2.

Learning freedom
Edutainment provides the kids with an opportunity to learn the way they want rather than forcing them to a particular structured learning or academic setting. Play learning calms them and gives them the freedom to enjoy. Regarding various studies, self-directed play provides preschool kids the best learning experience. Also, open-ended plays enable the kids to study and also boost the cognitive, emotional, and social human aspects.
3.Exploration aspect
Biologically kids are programmed to come up with their own innovations. Kids' playtime is more of an exploration than anything else. They always try to understand the world sorunding them. Here, the learning sessions are supposed to be more qualitative to have some know-how about themselves and the things around them. Rather than confining them in classrooms, incorporate the learning sessions with real-world exploration, especially the field trips.
4.Experimental education
The learning is purely experimental. This is because kids play around while studying new concepts and ideas. The kids will have hands-on learning materials such as parks, museums, and theatres.
 5.Boosts positivity
There are lots of positivity featured on trivia images and questions such as Crowd Trivia and online games. And children can easily connect with the features. The videos and trivia questions promote determination, hard work, teamwork, and humanity. This will enhance the kids' positivity since special characters are considered role models among kids, and the characters will inspire them as they grow up.
6.Intellectual stimulation
Rather than classroom teaching methods, which require students to memorize, games and videos present the kids with an opportunity to provide instant responses on a particular task or challenge. Therefore edutainment boosts the students thinking capability, competitive mindset, and problem-solving skills. Imagery storytelling sessions are delightful and also offer the kids an opportunity to improve pronunciation and knowledge of some words.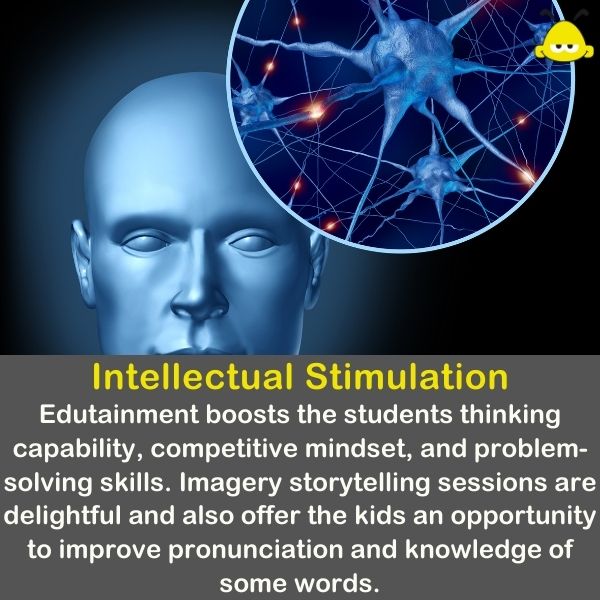 7.Educational games
There are good games out there that simulate various types of learning. Games that involve motion control are preferred since they incorporate both physical and educational aspects. Some games can foster constructive thinking, while others can encourage development skills. And if you want to go the app's way, there are apps out there that can teach kids rhymes, stories, and puzzles. The games' sounds, images, and animations can easily gain the kid's interest.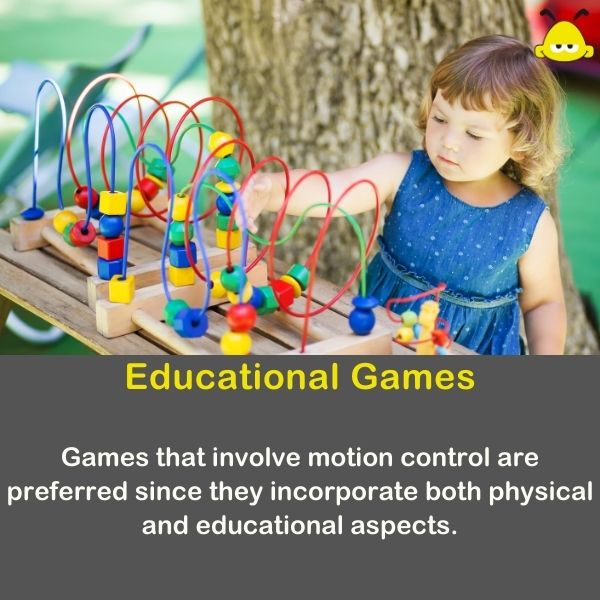 8.Enhances attention 
When it comes to the teaching expedition, getting the kid's attention is the priority. One of the best strategies to get the kids' attention is edutainment. Games, stories, and trivia questions effectively grasp the attention and focus of the kid. Motional educational contents easily register in the kid's mind than classroom lecturers.
9.Portable learning
Online educational videos enable learning to take place in any place at any time. Meaning, learning is not confined in classrooms and at specific timelines. Kids can learn when they are doing hopping, in the car, or even at church. Various websites, such as Crowd Trivia, engages kids in improving some knowledge.
10.Improves social skills
Edutainment is more about plays and groups, enhancing the kids' social skills. Also, engaging educational strategies boost confidence among kids. Besides, the education approach exposes the kids to the outside world, which enhances creativity.
11.Technology 
Technology, technology; nowadays, technology is the bread and butter for every sector. Age does not limit people's access to technology. Edutainment allows kids to explore technology at the earliest age. This makes them harden on the technological aspect as they grow up. As a parent or teacher, you should be cautious about what technology is teaching the kids. It would be best if you protected the kids from pornography, extremism, and cyberbullying content.


Is edutainment achievable?
The answer is straightforward, yes. But entertainment should help education to achieve its goals. In other words, education's goals should not be altered with entertainment. Education's objectives should include academic, social, and intellectual growth. School should produce decent and well-rounded human beings. Entertainment will help educators to achieve the prescribed goals by providing a cool and fun learning environment. There are no ISO certified ways for making learning environments cool and fun. It all depends on the teacher's artistic skills. Therefore, the teacher should incorporate education with entertainment in a manner that inspires learners.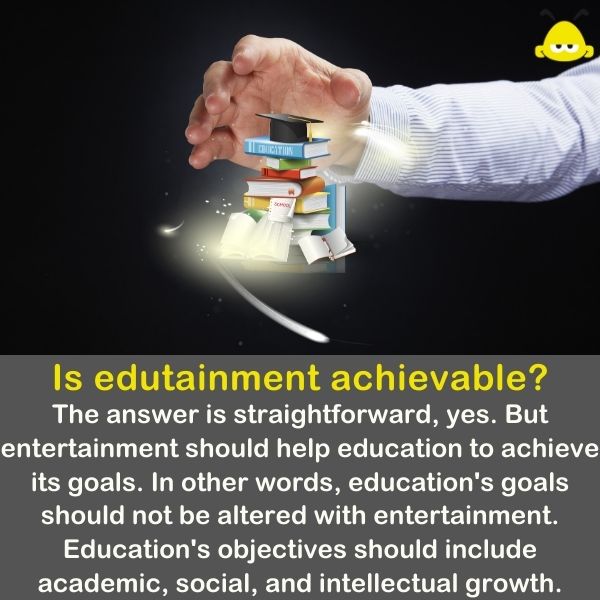 Where can edutainment be applied?
Most people tend to think that edutainment is only applicable to the elementary levels of education. Little do they know that edutainment cuts across in the society? Therefore, apart from elementary schools, where can edutainment be applied?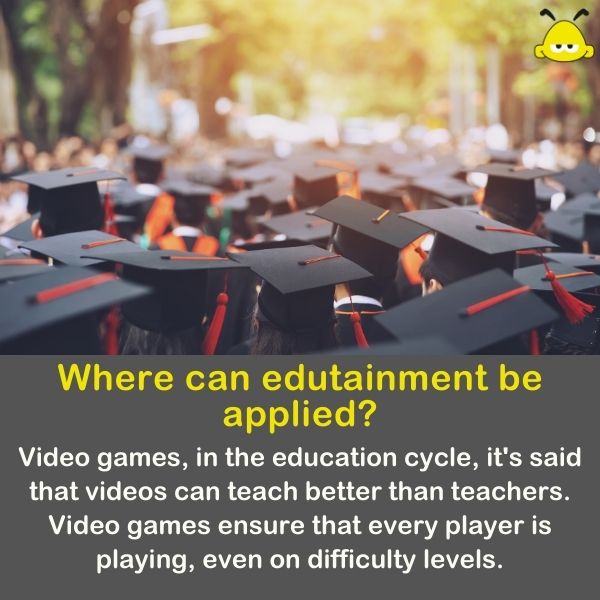 Elementary schools - in most instances, edutainment are associated with elementary levels of education. They are referred to as an essential component for elementary learners. However, computers are not considered toys since elementary school-age kids do not play many video games as a mechanism of education development.


Universities - during long lecturers' edutainment, are very effective. University dons have found the best ways of maintaining their student's focus and interests, such as PowerPoint slides, discussions, videos, and demonstrations.


Video games - in the education cycle, it's said that videos can teach better than teachers. Video games ensure that every player is playing, even on difficulty levels. The games are very engaging and can teach one how to solve problems and provide challenges to them.


Corporations and edutainment are used by businesses to create various learning programs such as animations, flashy graphics, and PowerPoint presentations. Also, most cooperate adverts use edutainment to the fullest.


Botanical gardens, zoos, and museums

- In other words, public places are considered fun places to learn because they are full of images that are associated with edutainment.
Criticism of edutainment
With all the benefits edutainment comes with, it also has some drawbacks like any other education approach. First, it should be noted that edutainment is an education approach that originates from the science museum community in the United States of America. The system is criticized for its focus on fun and enjoyment at the primary ingredient's expense, educational content. Critics go further to say that education is a serious matter and should not be promoted remarkably. Therefore entertainment saturates the educational content.


Final thoughts
Edutainment is one of the educational approaches that should be given considerations. This is because it has multiple benefits as compared to drawbacks. The system boosts the kid's confidence and social skills. Besides, it's very entertaining; hence it easily captures the kids' focus and attention—some of the edutainment tools such as extracurricular activities promote kids' health and also stress relievers.
In terms of the implementation framework, instructors and parents should design an activity that can be easily be conceptualized by the kids. Let the education approach be as entertaining as possible. But there should be a balance between the entertaining aspect and the education aspect, ensure that the entertaining aspect does not supersede the value of the education content.