50 Disney Fun Facts

Disney is a name that is familiar to billions of people around the globe. At least half a billion people watch Disney films, millions visit Disneyland and Disney World theme parks, and millions more watch Disney+ and the Disney Channel. Truthfully, Disney is a part of modern life on Earth, and it's hard to avoid the pervasive Disney culture, but we promise you - here you will discover a ton of facts you didn't know. Here are some interesting Disney fun facts that you be amazed to discover. Sooner or later, you will need to know these facts once you encounter a part of the Disney universe.
Interesting and Important Facts about Walt Disney's Life
The following fun facts are about Disney's life and how he created the Disney Empire.
1. Disney is named after Walt Disney. 
 He was born on October 16, 1923. He spent his childhood in Marceline, Missouri. When he was a kid, he had a knack for drawing, painting, and selling his artwork to the locals. Disney dropped out of school at 16. About 5 years later, he opened his own animation studio that flopped. A short time later, he opened Disney's Brothers' Cartoon Studio. The name was simply shortened to Walt Disney Studios. Today it's known as The Walt Disney Company. By the way, an interesting fun fact is that Walt Disney World (Orlando) is covering a space that equals 51 Disneylands (California).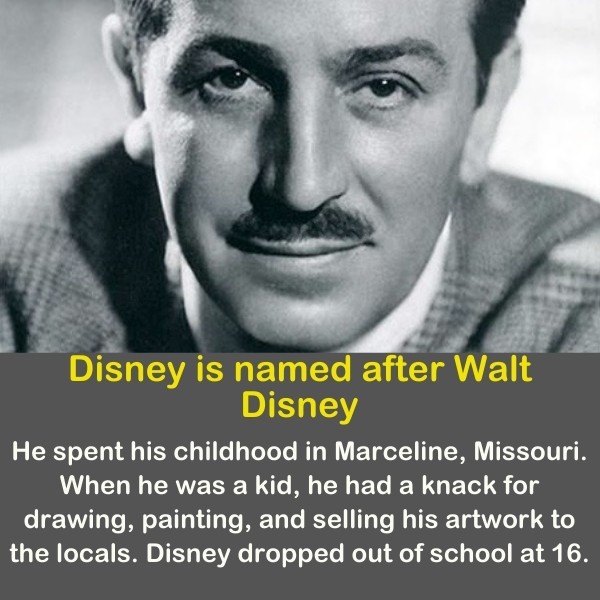 2. How much is the Disney empire really worth?
 Disney is an empire that is worth a staggering $130 billion. This is a huge sum of money, and it also makes Disney one of the wealthiest companies on Earth. Disney's vast wealth is generated through four major outlets. These outlets include its media networks, studio entertainment, parks and resorts, and products. There are not a lot of Disney family members that work for the company.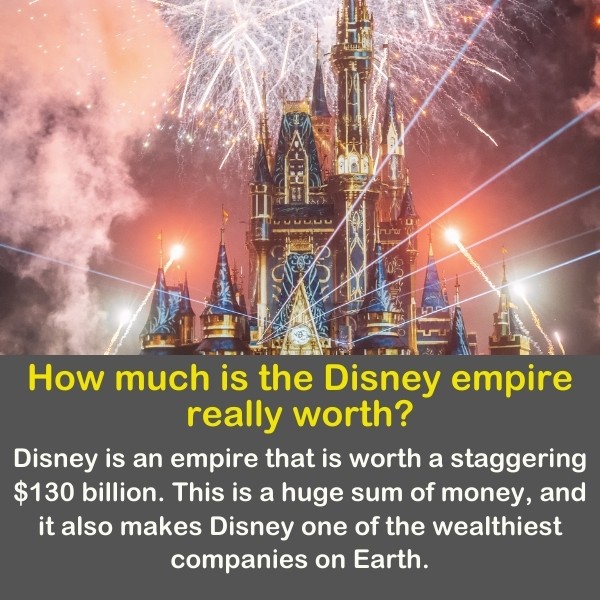 3. Disney Empire's Fame
 Disney's empire generates a lot of popularity and wealth primarily from its characters, movies, and media outlets. The Disney empire is known for its classic fairytales. Mickey and Minnie Mouse are the global flagship characters of this brand. Disney also owns (subsidiaries) Marvel Studios, Lucasfilm (Star Wars), Pixar Animation Studios, Touchstone (movie studio), Fox Kids, ABC (the network), Disneyland, and Disney Cruise Line. They also own Hulu.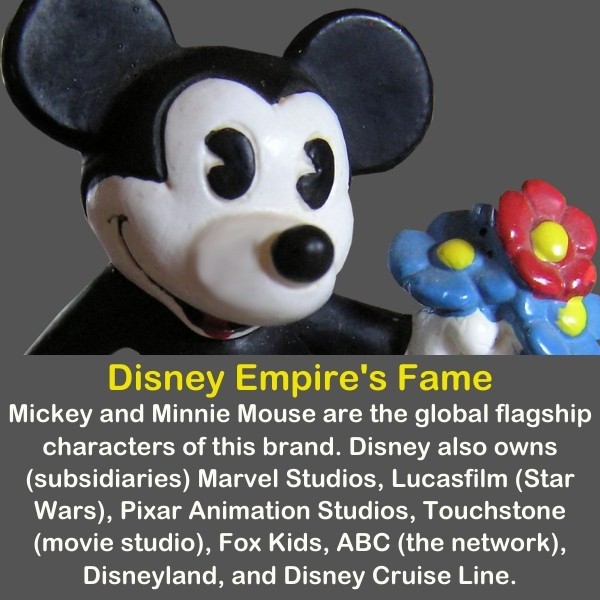 4. Disney Empires Controls about Media Portals
 We already mentioned that the Disney empire is primarily supported by its media outlets. Disney or one of its subsidiaries releases at least 1 film of the year that generates millions. Disney is the world's second-largest entertainment company. Again, it is hard to avoid Disney's presence when the company has a major stake in film and television media.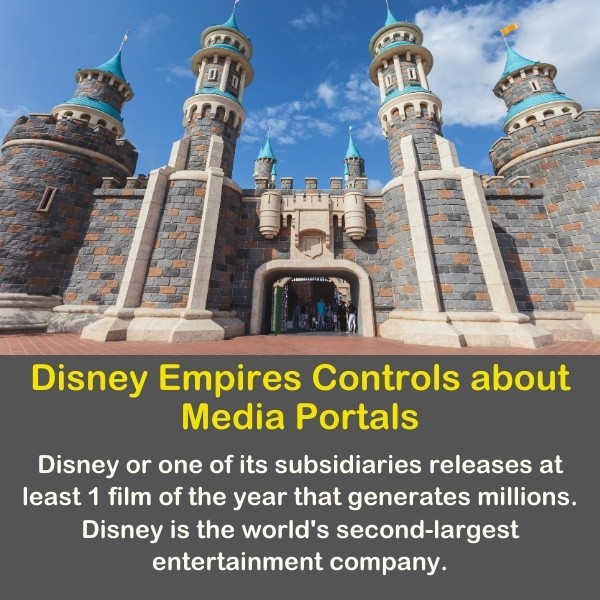 5. Important Facts about Disney Empire Philanthropy
 Disney's corporate responsibility is needed to help millions of people. This is a normal part of life for any business. In 2019, the company donated close to $340 million to charities. The company provides money to Children's Hospitals and Wish Granting, Disney's Conservation Fund, and Investments in Youth. They also give money to the Lion King Protect the Pride Campaign. Disney encourages its employees to also give to charities.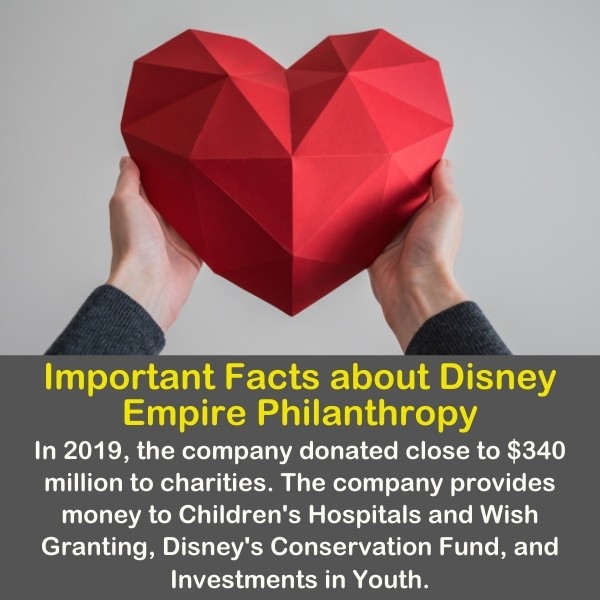 Disney Empire Famous Cartoon Faces
 Here are some entertaining facts about the famous cartoon characters that represent the Disney brand.
By the way, you can also enjoy answering trivia questions about Disney or play Disney quizzes.
6. Mickey and Minnie Mouse: The Face of the Brand
 Micky and Minnie Mouse are husband and wife. Mickey is the official mascot of Disney and Minnie is his First Lady. Minnie is also an unofficial Disney Princess. Walt never allowed anyone to do the voices for Mickey and Minnie up until 1946. Originally, Mickey was going to be called "Mortimer Mouse." Walt's wife (Lily,) said no. She then told him to name the mouse "Mickey." The name stuck.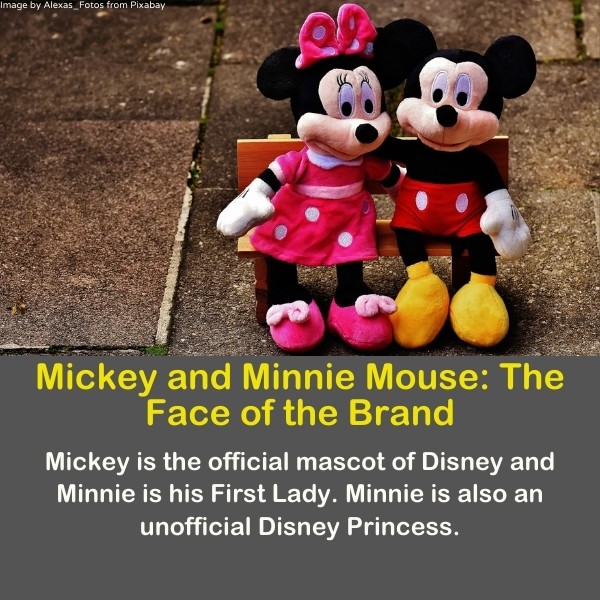 7. Facts about Donald, Pluto, and the Rest of the Disney Gang
 Donald Fauntleroy Duck joined the Disney empire in 1934, and he was created by Disney. His girlfriend, Daisy Duck, came on board a short time afterward. Pluto the Pup first appeared in 1930. Goofy Goof teamed up with the group in 1932. These four characters, Mickey, and Minnie are known as the Sensational Six. The Sensational Six are the biggest and most popular stars in the Disney universe.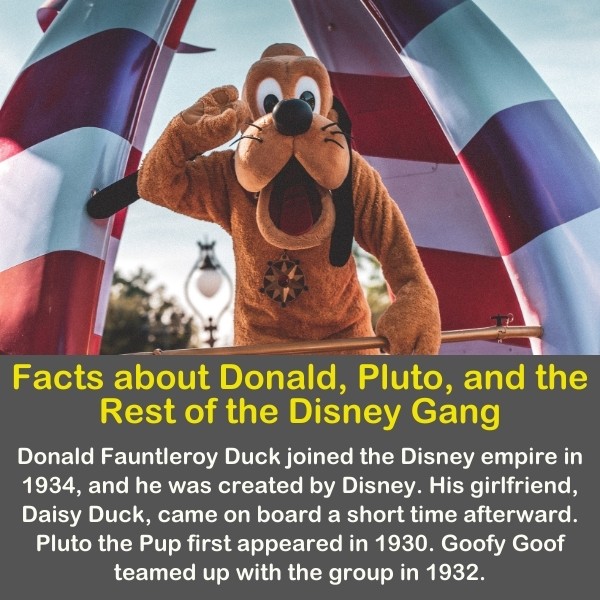 8. Modern Disney Cartoon Character Facts
 Modern Disney Characters are more familiar to the current generation than the Sensational Six. Characters such as Elsa, Woody, Anna, Simba, Mustafa, Aladdin, Mulan, Jack Sparrow, Maleficent, and Princess Tiana are popular with young generations of Disney fans.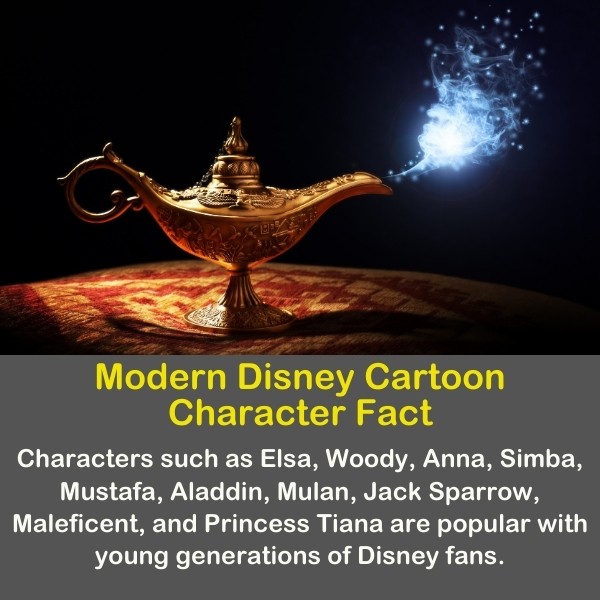 9. Facts about Popular Disney Movies and TV Shows
 Today's moviegoers and TV viewers are tuned into modern Disney entertainment. Disney media outlets have produced some of the best films and TV shows on the air in 2020. Films such as Artemis Fowl, The New Mutants, Mulan, Black is King, Hamilton, and Onward have gone over well with audiences. TV shows such as the Mandalorian, High School Musical (Series), and Marvel Hero Project are popular shows.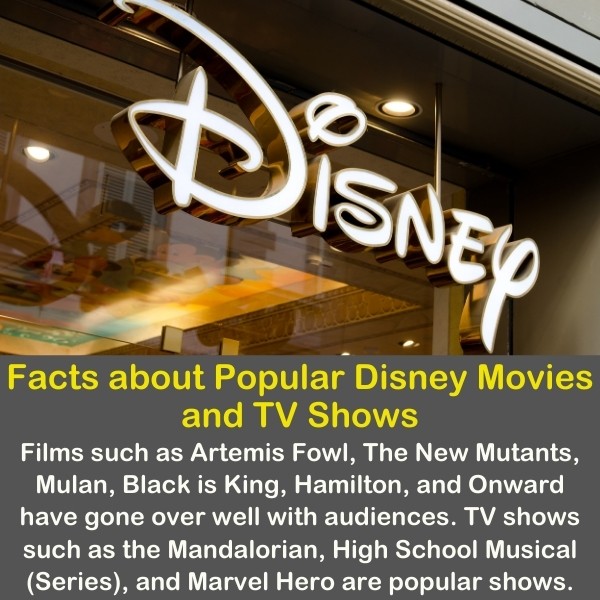 Useful and Knowledgeable Facts about Disneyland
 The Disney experience is not limited to just television and the big screen. People can also interact with Disney through its theme parks and attractions.
10. Disneyland Provides Stellar Customer Service
 Disneyland is known for its outstanding service. Forbes ran a feature on the service that the theme park offers. The article stated that Disney knows how to put on a show and that the workers are "always-on." This mentality and work ethic helps guests to have the best experience possible when they visit the park.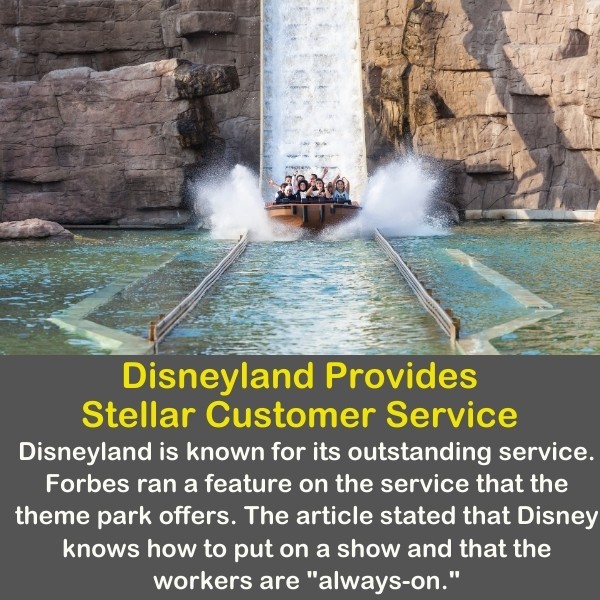 11. Disneyland's Pandemic Response
 Disneyland attracts nearly 60 million people a year. Since COVID hit the U.S. early in 2020, the attendance at the parks has plummeted. As a result of the pandemic, Disney shut down Disneyland (parks) and Disneyland Paris. Coronavirus continues to make it hard for the park to operate efficiently. At least 28,000 employees have been laid off as a result of the pandemic.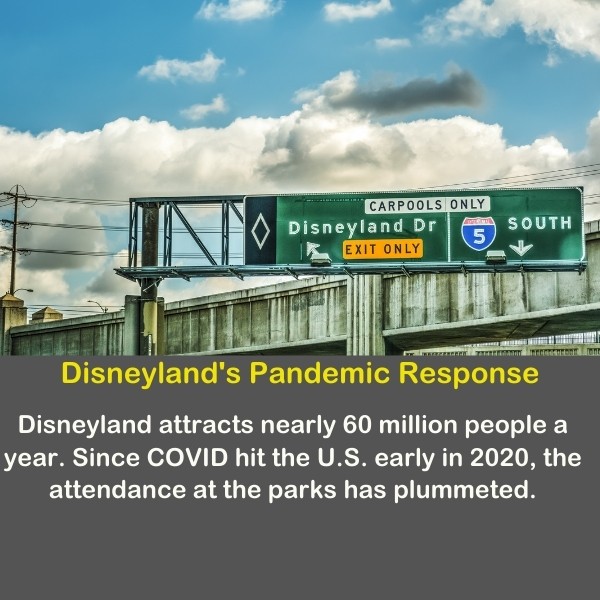 12. The Average Cost to Visit Disneyland
 The cost of attending Disneyland will vary by party size and the number of days that a party stays at the parking area. Most people that visit the park are families. The average amount of time that a family stays at Disney is about 3 days. When you factor in the cost of food, hotel stay, souvenirs, and special attraction costs, Disneyland average about $4,000 a family for a 3-day stay.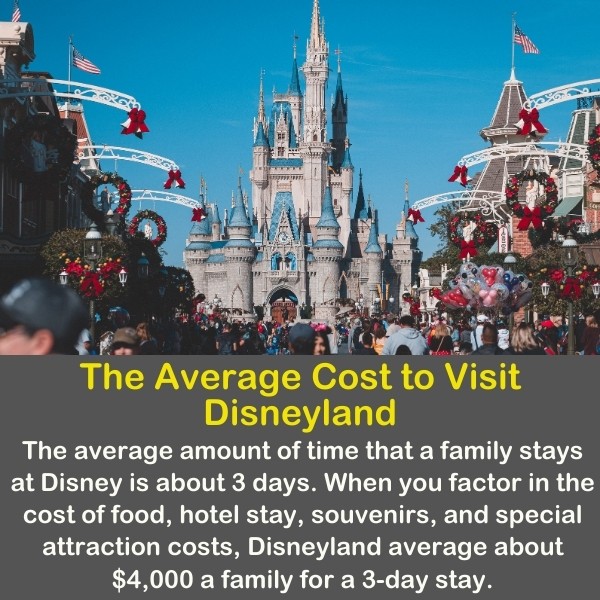 13. Disneyland's most Popular Rides and Attractions
 Disneyland has plenty of things to do for visitors. However, it's the park's attractions that really make it fun and exciting. These rides include Indiana Jones Adventure, Autopia, Haunted Mansion, Splash Mountain, Peter Pan's Flight, Space Mountain, and Finding Nemo Submarine Voyage. These attractions are constantly busy and receive the bulk of the park's visitors.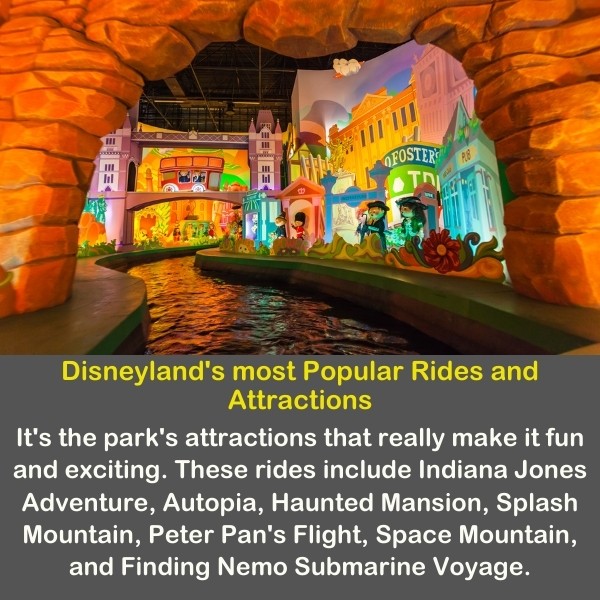 14. Facts about Disneyland's Entertainment
 When tourists attend Disneyland, they experience certain things during their stay. Character dining is popular, and so is Anna and Elsa's Royal Welcome. Guests can indulge in the Star Wars Character Experience and even get scared at the Halloween Screams attraction. Millions of visitors attend Avengers Headquarters, and in December, they're treated to a Christmas Fantasy Parade. There is always something to do at Disneyland.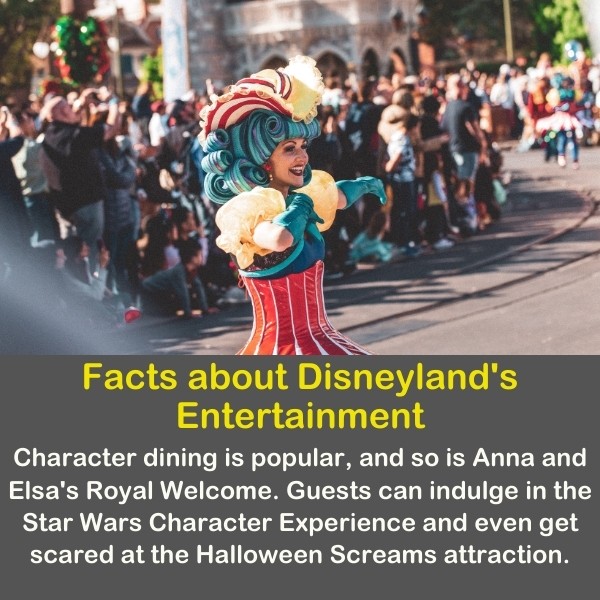 Weird Fun Facts about Disney
 Disney provides lots of fun and entertainment for families, but it did have some weird things going on in its history. Let's check out what they are.
Oh, don't forget to check our fascinating blog post about weird fun facts from around the world.
15. Disney's WWII Involvement
Disney was involved in the war movement after [World War II] started. The government used the company to spread propaganda about the war effort. Disney made a lot of propaganda films, but they didn't make money off them. They had to re-release Snow White and the Seven Dwarves in 1944. This helped the company to stay afloat when they were about to sink. Do you love history? check out the epic article about the top 50 history fun facts.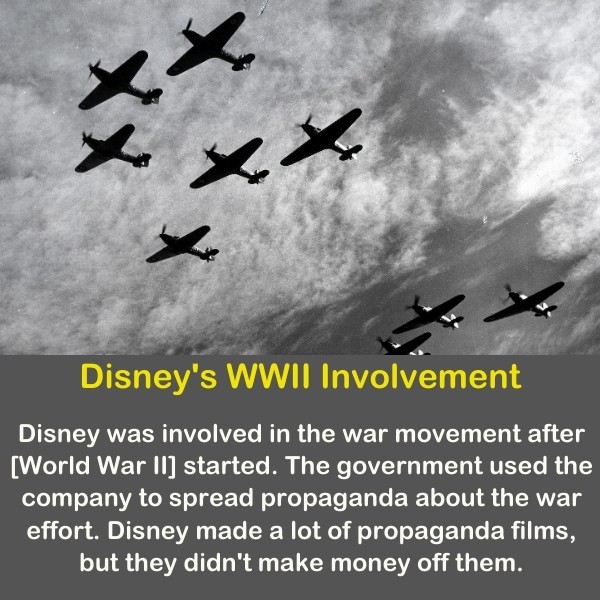 16. Pinocchio was a Huge Success During the Dark Days of World War II
 Pinocchio was a strangely successful film. The movie completely bombed in the U.S. However, in war-torn Europe, it did very well. WW II started in 1939, Pinocchio was released in 1940, and overseas European markets were enthralled with the film. Even when buildings were crumbling, Nazis were advancing, and people were dying, they still went out to see Pinocchio.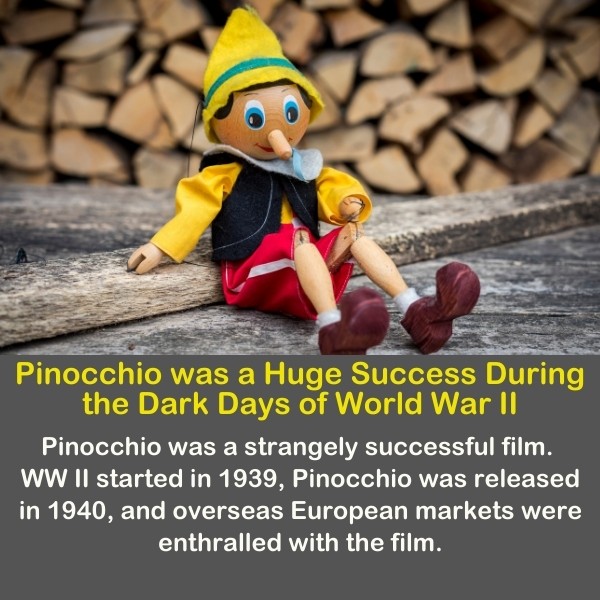 17. Strangely, Walt Disney Holds the Most Academy Awards Won by a Single Performer
 Most people wouldn't think that a Hollywood personality such as Disney would win the most Academy Awards. He had amassed a total of 23 Oscars and was nominated a whopping 59 times during his career. Walt's outstanding record has not been broken to this day.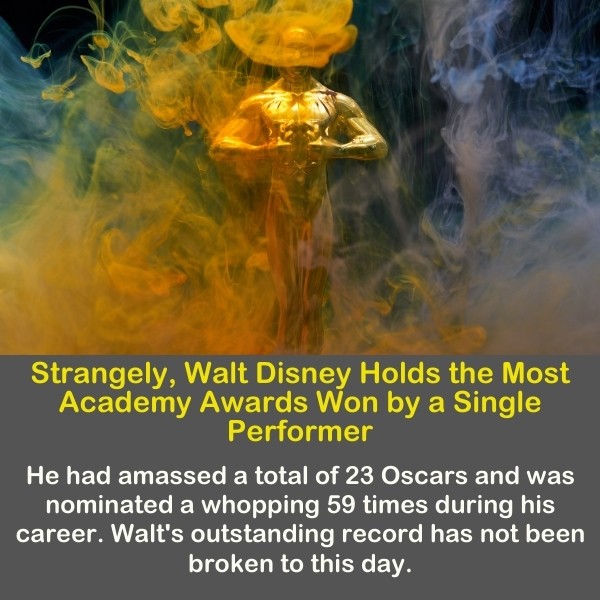 18. Walt Inadvertently made one of the Employees a Millionaire
 Most people who have employees take care of their workers, but they don't necessarily try to make them too rich. Thelma Howard was Walt's family housekeeper. Every birthday and Christmas, he would give her stock in his company. Walt ended up paying his housekeep about $9 million dollars throughout the years. She passed away in 1994 as one of the richest housekeepers in the world. If you also love Christmas, check out the most amazing 50 Christmas fun facts.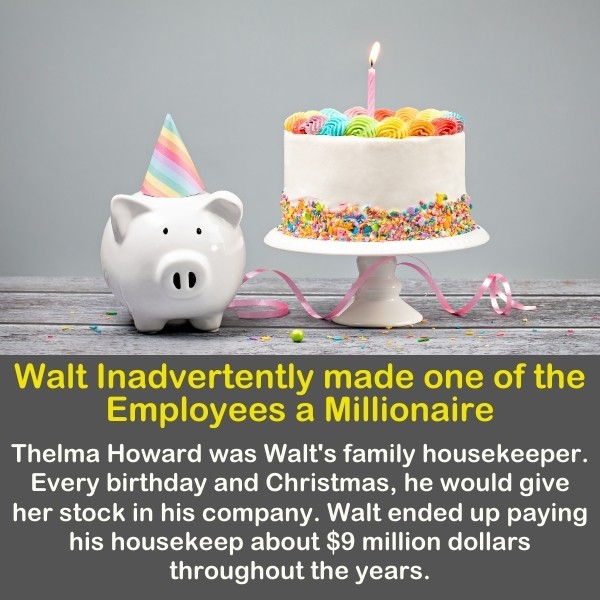 19. Disney's Dark Struggle with Robin Williams
 Robin Williams was an iconic comedian. When he played the role of Genie in the Aladdin movie, he demanded that his voice would not be used to merchandise products. Disney didn't keep their end of the deal. As a result, Robin took Disney to court. He then did not allow the company to use his voice for merchandising purposes. There is also a clause that prevented Disney from using his voice for the Genie long after he died.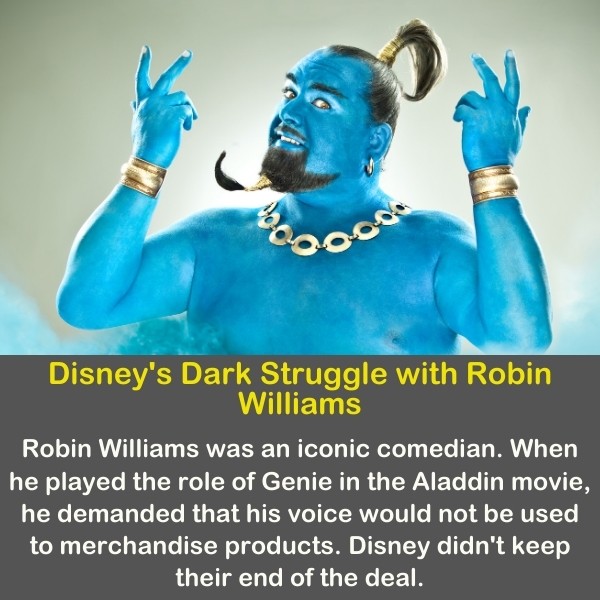 Cool and Unforgettable Facts about Disney
 Here are some cool facts about Disney that should not be overlooked or forgotten.
20. Dumbo the Elephant almost made it the Cover Time Magazine
 Dumbo is one of the most memorable movies and characters from the Disney Universe. In 1941 he was going to appear on the cover of the legendary TIME magazine. He was scheduled to make this appearance in mid-December. However, this did not happen because of the attack on Pearl Harbor. If Dumbo had made it to the cover of TIME, he would have been known as Mammal of the Year.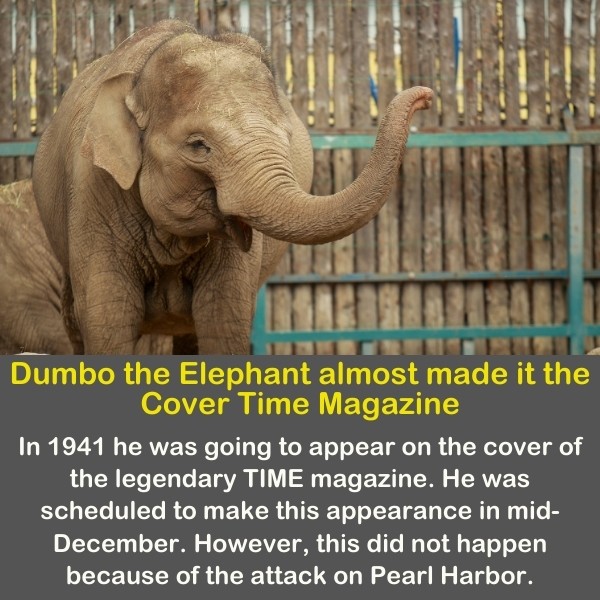 21. The War Hero who Voiced Bambi
 The Vietnam War had its fair share of real American heroes. However, there was none of them quite like Donnie Dunagan, who spent at least 25 years of his life in the Armed Services. Donnie Dunagan decided to become a marine instead of being an actor. This man was the voice of Bambi from the original Disney classic.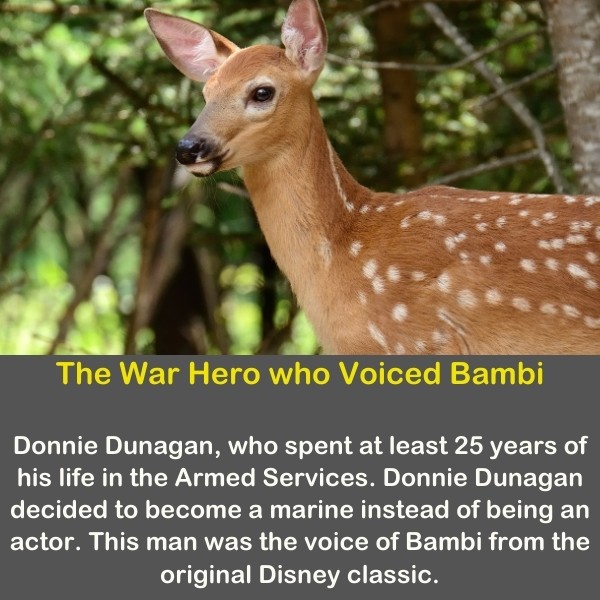 Play Disney Movies Trivia Quiz >>
22. There is a Psychological Principle Named After Disney's Cinderella Character
 The Cinderella Complex is derived from the life of Cinderella, which was made famous in the classic Disney film. This psychological principle is used to describe women who depend on men for their emotional and financial needs. It also applies to women who are constantly searching for a Prince Charming. Author Collette Downing came up with this phrase. By the way, did you also think that Cinderella and Snow White are kind of similar?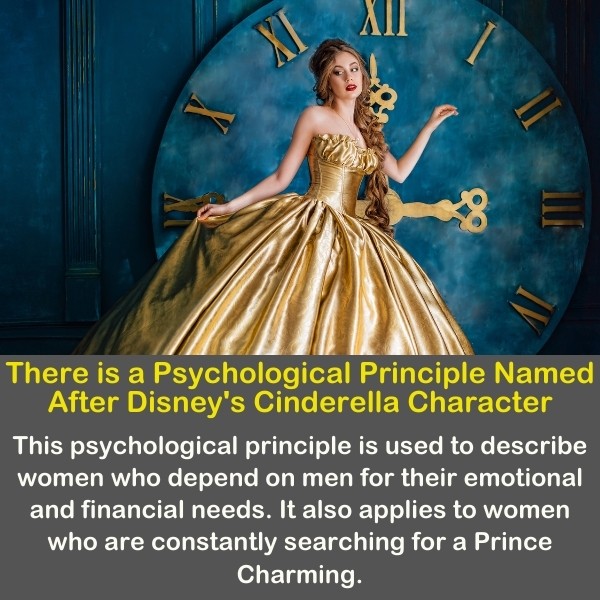 23. The Lion King was Disney's First Original Fairytale
 Disney stories were always remade of old fairytales from the past. Up until writers created the Lion King, the studio never made any original stories. The Lion King wasn't adapted from any other culture, and the storyline was created from scratch. Since that time, Disney has made more films with original plots.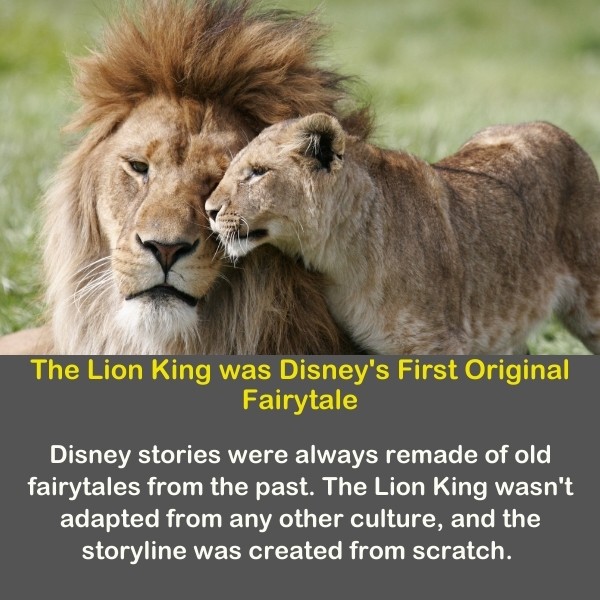 24. Jackie Chan Performed in the Chinese Version of Beauty and the Beast
 When movies are made, they are often translated into different languages. This allows foreign audiences to enjoy the movie without having to read subtitles. Also, popular foreign actors are often used to (voice) certain roles. Chan's ability used this popularity to voice the character of the Beast for Asian people.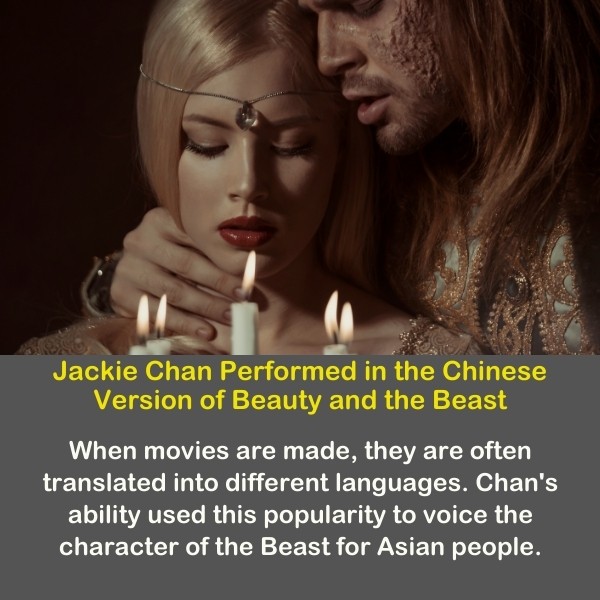 Scary but Fascinating Facts about Disneyland
 Disneyland has some unsettling going on at its parks. These things are not illegal or immoral, but they would raise an eyebrow for some people who are not aware of these activities. Here are some scary and fascinating facts about Disneyland.
25. The Strange Custom of Scattering Ashes at Disneyland
 Disneyland has a strange ongoing custom that permits visitors to scatter their deceased relative's ashes. People will scatter the ashes of their dead loved ones in certain areas within the park. Many of the park's employees don't like the custom. Most of the ashes are scattered near the Haunted Mansion attraction.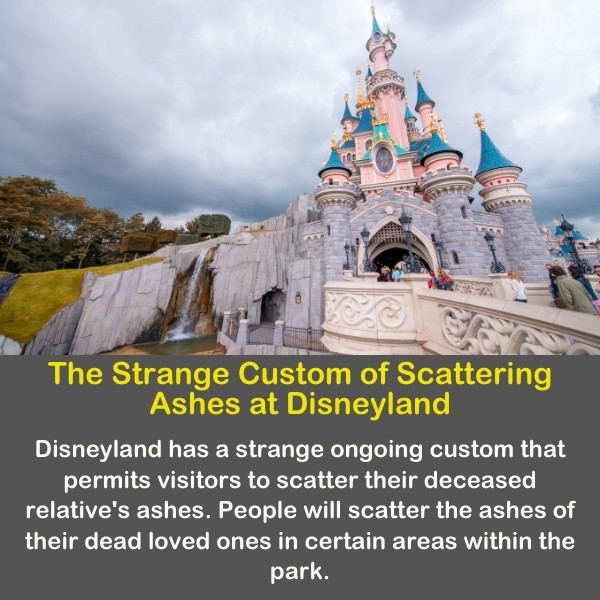 26. The Underground Tunnel City of Disneyland
 Most people who visit Disneyland don't realize that there is an underground system of tunnels. This system of tunnels was built in the past to allow Disney employees and entertainers to travel back and forth throughout the park area. They allowed the workers to stay hidden from sight in between shows.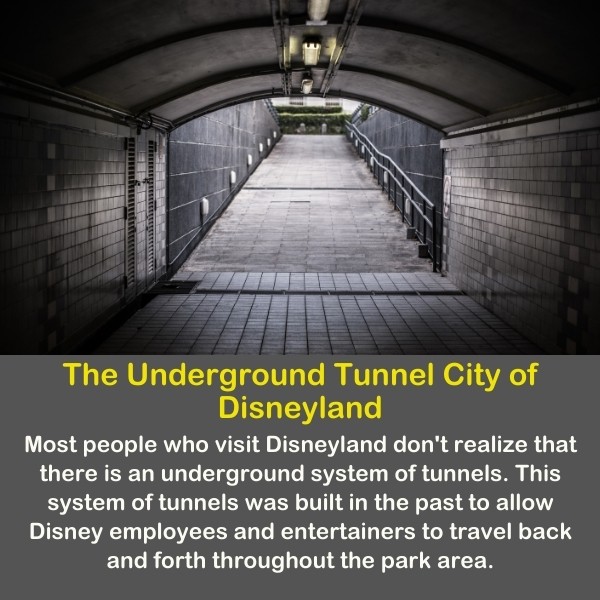 27. Cats Invade Disneyland During the Nighttime
 Disneyland has a problem with cats. Once the park shuts down, lots of cats end up in the park area. Some people claim that the cats are feral. Others believe they were purposely put into the park by Disney officials. The cats help to keep the rodent population under control. Are you a cat lover? check our amazing blog post: 52 cats fun facts.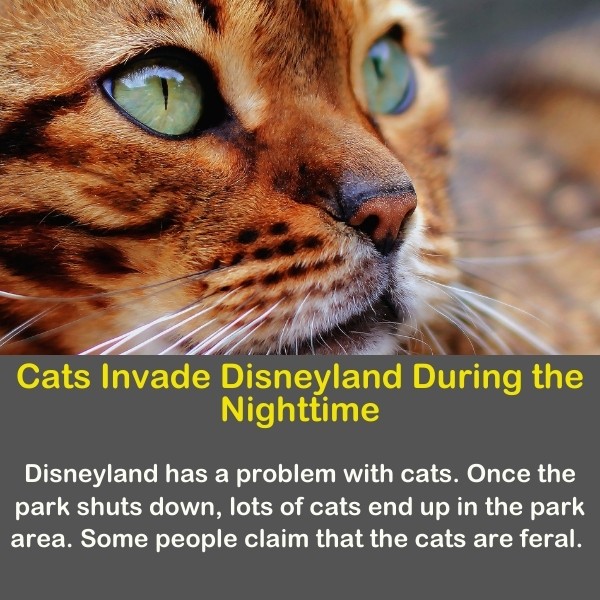 28. The Pet Cemetery at Disneyland
 Real-life pets are buried on the grounds of Disneyland near the Haunted Mansion attraction. Once again, this is a strange thing to have at a theme park. Still, the Pet Cemetery is a big deal for visitors. The Pet Cemetery also adds to the spookiness of the attraction.
29. The voice of Lilo, from Lilo and Stitch haunts your dreams
 The voice of Lilo, an unusual young Hawaiian girl who adopts Stitch as her pet dog, is no other than Daveigh Chase - the girl who haunts your dreams as Samara Morgan from the scary horror movie "The Ring".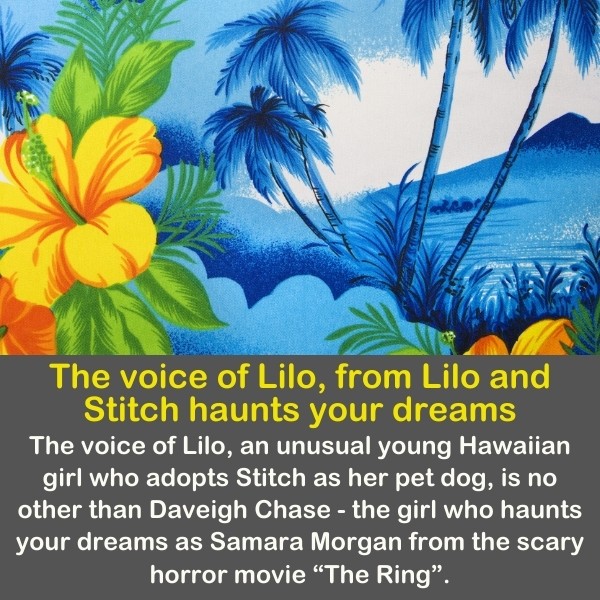 30. "It's A Small World" Dolls Come to Life
 Throughout the years, some people have reported that certain dolls move around the Magic Kingdom Park. This area is often visited by guests when they take a trip on the "It's a Small World" ride. People have reported seeing the dolls move. Employees who work at this attraction also make this claim. You can decide if they are telling the truth or not.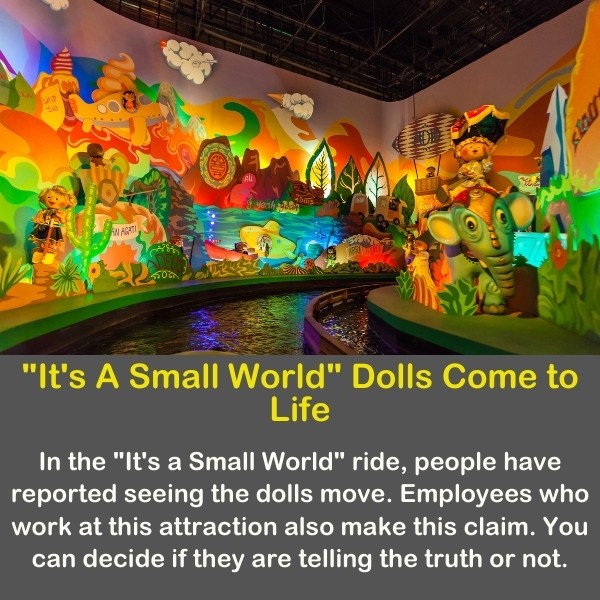 Strange and Bizarre Facts about Disney
 Disney has a few skeletons in its closet. Still, these negative things don't harm Disney's stellar reputation. However, they should be noted so that people can see that even Disney has its flaws.
31. Donald Duck's performance as a Nazi in the 1942 film
One of the strangest things that happened at Disney was about Donald Duck's performance as a Nazi in the 1942 film Der Fuehrer's Face, which is anti-Nazi propaganda. Donald Duck's portrayal as a Nazi earned Disney an Oscar. This film was placed on a list of inciting hatred and enmity. This was not one of Disney's finest moments.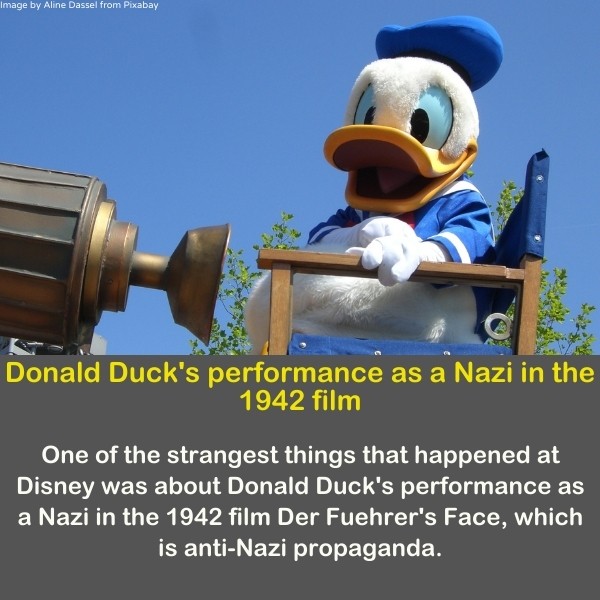 32. Disney made an Extremely Racist Movie that they don't show today. 
In 1946 Disney made a film called Song of the South. This film was a live-action and animation pictures. The problem with this film was that it showed black people in a very negative light. The classical song Zip-a-Dee-Doo-Dah debuted in this film, and it won an Oscar.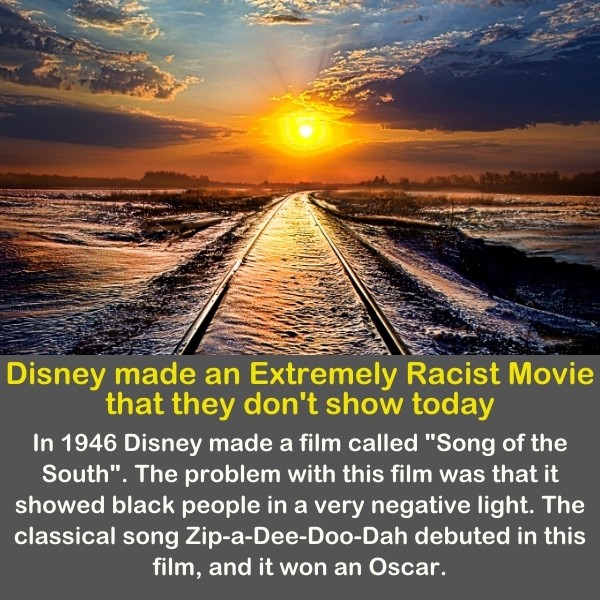 33. Jessica Rabbit had to Show the World her Goodies
 Who Framed Roger Rabbit is one of Disney's most provocative films. Why? Because Roger Rabbit's wife, Jessica, was an extremely sexy character. She had a body of a true vixen and the personality to match. During one scene in the movie, people could see her private parts. Apparently, one of the frames made it look like she didn't have any panties on. However, this frame would be easily missed by the average viewer unless they just somehow caught it.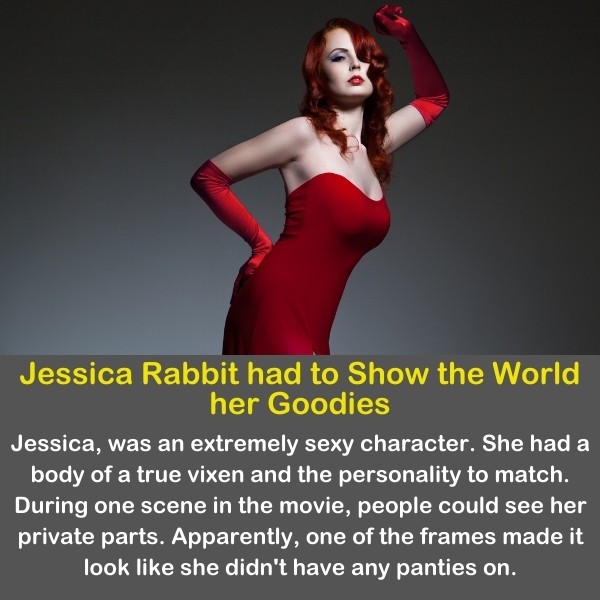 34. Walt Disney wasn't Fond of Female Animators
 Walt Disney did not hate women. However, he did not think women were creative individuals for animation. He rejected many women from doing this type of work in the early days of Disney. Today, many Disney films have plenty of females directing movies and/or creating stories.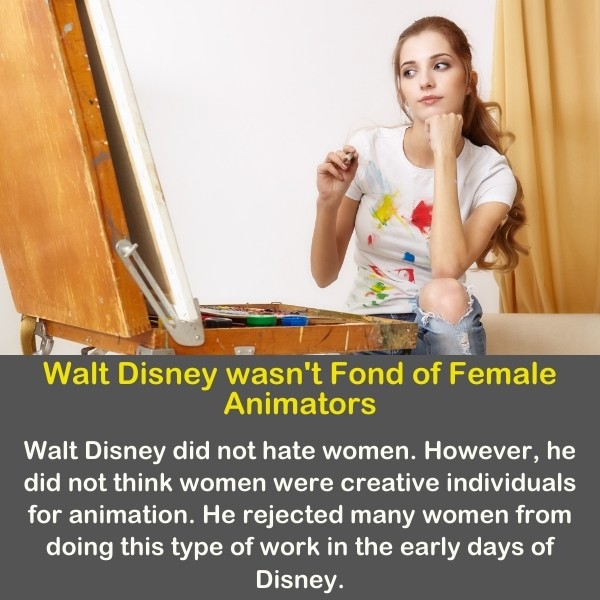 35. Princess Tiana Inspired Kids to Really Kiss Frogs
 Disney's Princess Tiana starred in the film Princess and the Frog. However, a few kids went to the hospital after watching this picture. They ended up getting poisoned after trying to literally kiss a frog to make them into a prince. Princess Tiana was not responsible for this situation. Some kids just can't tell the difference between reality and fantasy.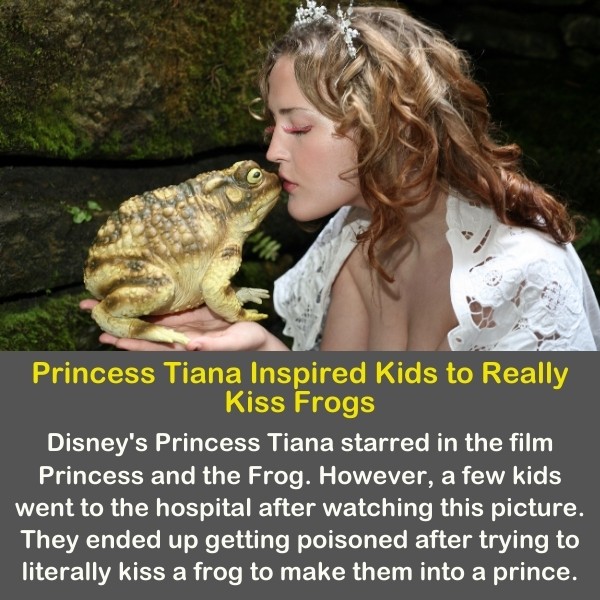 36. Mickey Mouse used to be a Rabbit
 Mickey Mouse used to be known as Oswald the Lucky Rabbit. Oswald was the very first Disney character created. Disney was going to continue with him, but Universal and he got into a legal dispute over the character. Disney then changed the character to avoid legal problems. Mickey Mouse was born.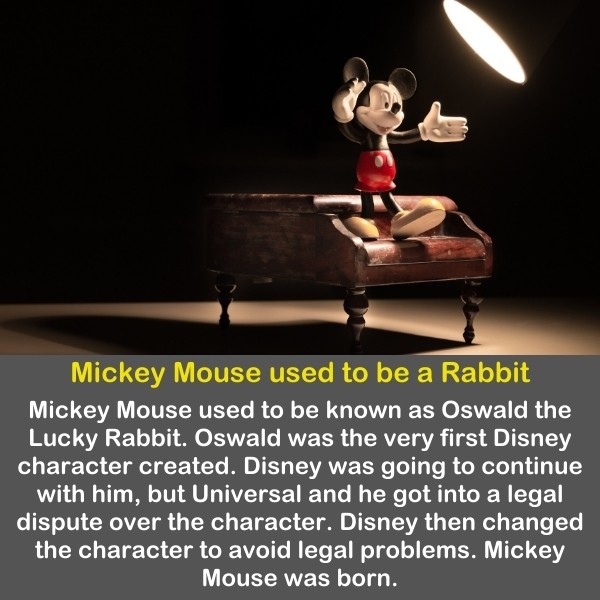 Really Amazing Facts about Disney
 Some amazing things happened at Disney during its long tenure as a major media organization. Some of the facts presented here are very unusual, and some can also be a little unsettling.
37. The FBI went to Disney for Help During the Cold War
 Walt Disney assisted the FBI during the Cold War era. He was contacted by the FBI to monitor things in Hollywood. He was to report to the bureau about any communist activity. The FBI didn't reveal everything that Disney had done for them. After his death, they released information about his service.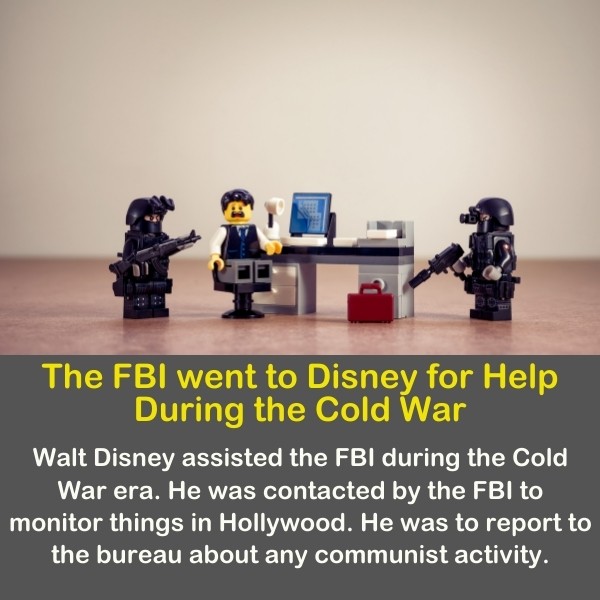 38. Do Disneyland employees have a problem with suicide?
 Over the years, there have been strange reports about workers in Disneyland Paris attempting suicide. Some of the attempts turned out to be actual cases. Some people who work closely behind the scenes of the Paris Park claim that the atmosphere is toxic. However, many employees do not see things in this way.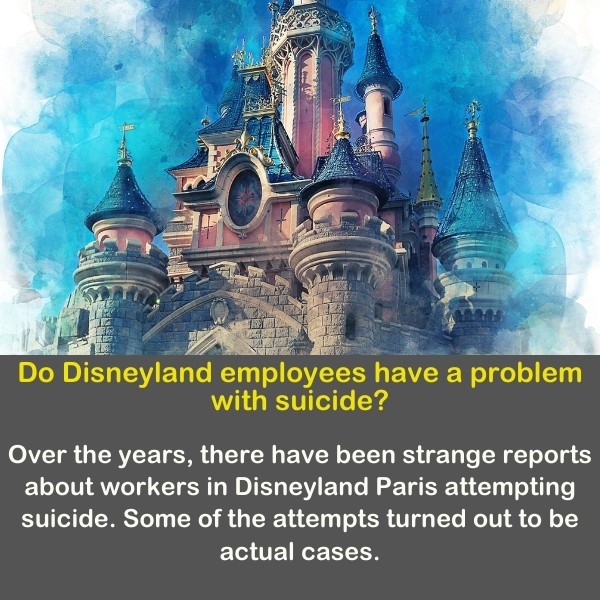 39. Disney Owns its Racist Past
 Today, Disney takes full responsibility for the racists movies that it created in the past. They do this through disclaimers and even public acknowledgment of this behavior. Disney programs in the past were a reflection of the era. Whether or not Walt was a real racist or not is up for debate.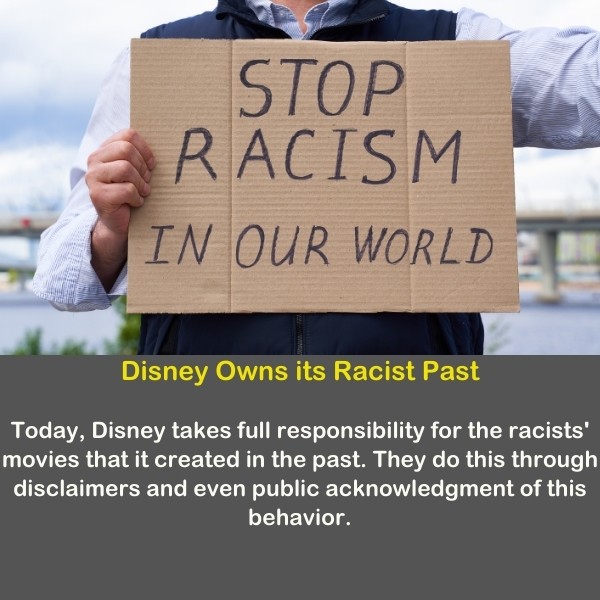 40. Disney has a Ton of Items that are Lost and Found Every Year
 The number of items that are lost at Disney parks could literally fill an electronic retail outlet. Of the 52 million people that visit the park every year, 7000 of them lose mobile phones, 4000 lost digital cameras, and over 19000 hats go missing as well. The park has found close to 2 million glasses since the early 1970s. Thankfully, they try hard to give this stuff back.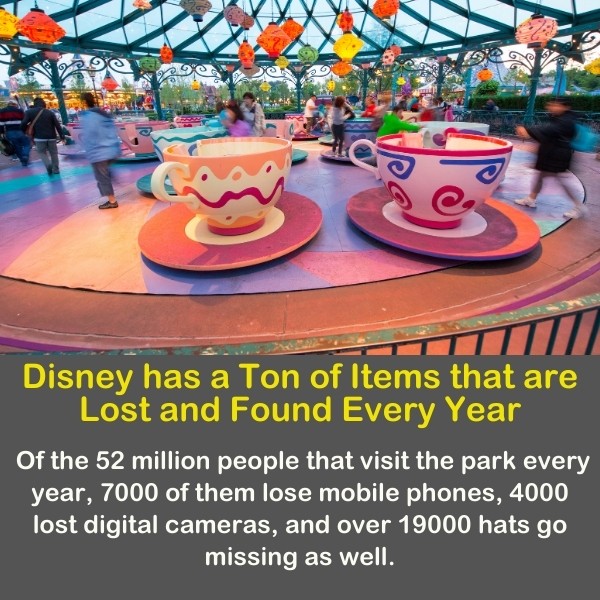 41. Mulan's Story had to be Altered to Fit Modern Audiences
 Mulan has released a live motion picture in 2020. This film has become a major box office favorite. In the original story of Mulan, the emperor's forces didn't save the kingdom. Instead, the kingdom is overthrown, and Mulan is ordered to become a concubine. She then kills herself. Of course, Disney had to alter this story to make it more appealing for young audiences.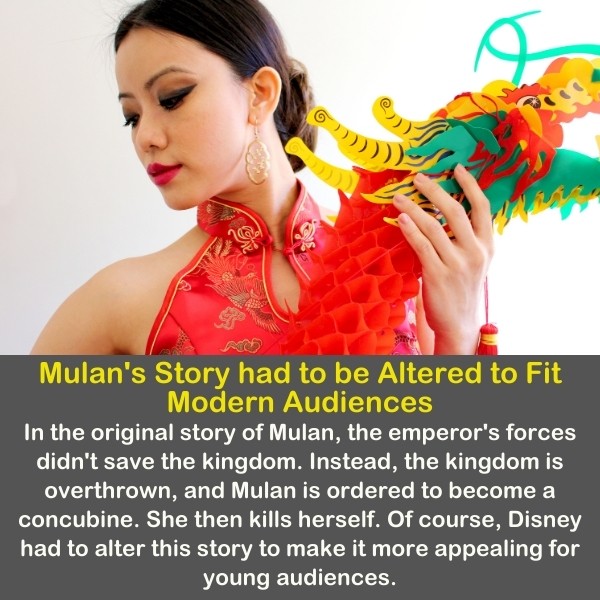 Exciting Facts about Disney
 Here are some exciting facts about Disney that help to make the brand so great.
42. Cinderella Castle is a Specially Designed American Building
 Cinderella Castle at Disneyland is a real castle structure. At the same time, it looks like something out of a fairytale. It a truly remarkable piece of architecture. Cinderella's Castle stands about 200 feet high. It has a guest suite, moat, drawbridge, and lots of turrets. There is a secret show that takes place every night, and the Castle's clock was purposely made with the wrong Roman numeral 4 "IIII" instead of "IV."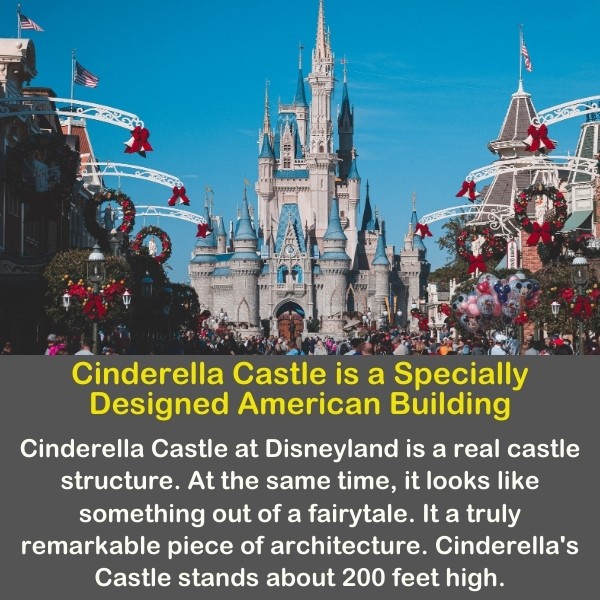 43. Too many Guest Rooms and not Enough Guests
 There are more than 30,000 guest rooms available at all the Disneyland parks combined. Each of these guest rooms is spread out at different hotels throughout Disneyland areas. If one guest decided to sleep in one of these 30,000 rooms each night, it would take a little over 80 years to accomplish this feat.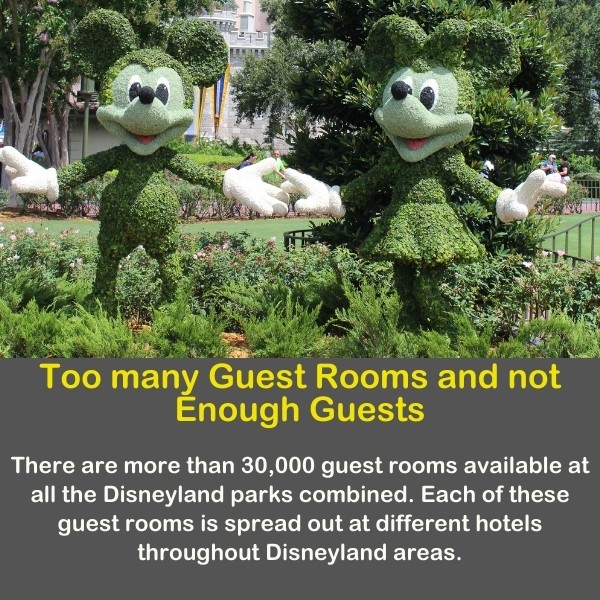 44. The City of Disneyland
 Most people don't believe that Disneyland (Orlando) is a city. It is over 40 square miles and is considered extremely small by city standards. However, it is extremely big for a theme park. Disneyland (Orlando) had to make their territory a mini-city to ensure that it remained open and not tied up with bureaucratic red tape.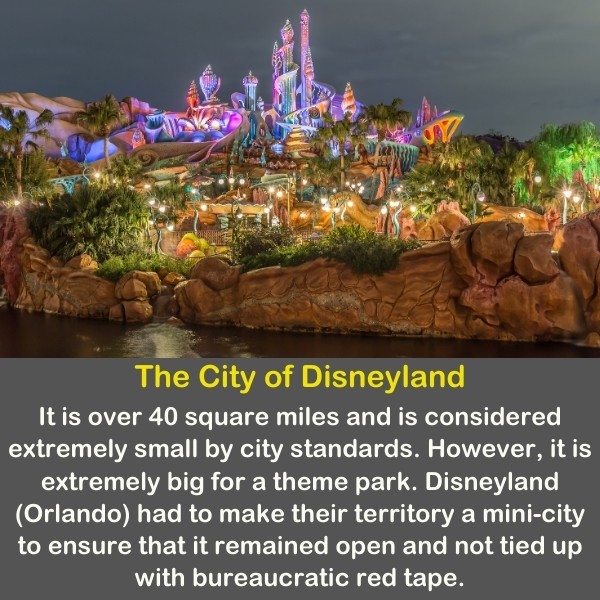 45. Real Astronauts Attended the Opening of Space Mountain.
 If you know anything about space travel, then you will be familiar with some of the first astronauts who made the journey into the new frontier. Senator John Glen, Scott Carpenter, Alan Shepard, Gordon Cooper, Deke Slayton, and Wally Schirra were all members of the Mercury spacecraft. During Disneyland's Space Mountain opening, these six astronauts made a special guest appearance.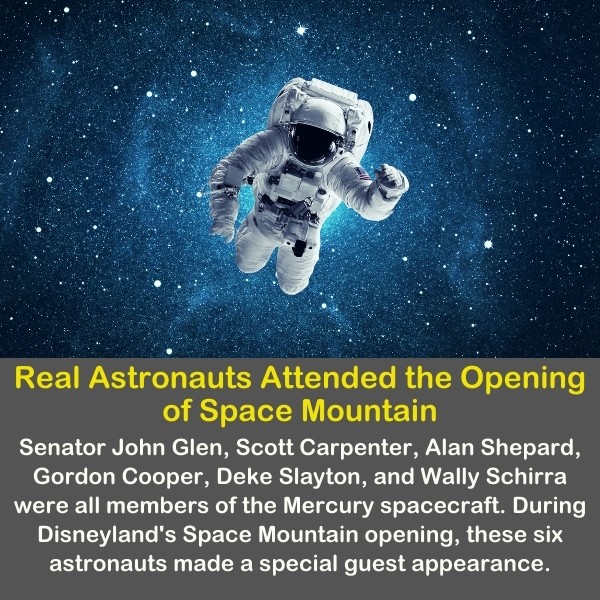 46. There's a T-Rex replica at the Animal Kingdom.
 Dino-Sue is a huge display at the Animal Kingdom. This display is the remains of a real-life T-Rex. Most of the bones were preserved except for a few. This dinosaur replica not only gives Disneyland a great "Jurassic Park" feel, but it is also an important scientific discovery. It is 67 million years age, T-Rex Sue was found in the Black Hills of South Dakota in the year 1990. Want more about the animal kingdom? you will love the 50 animals fun facts.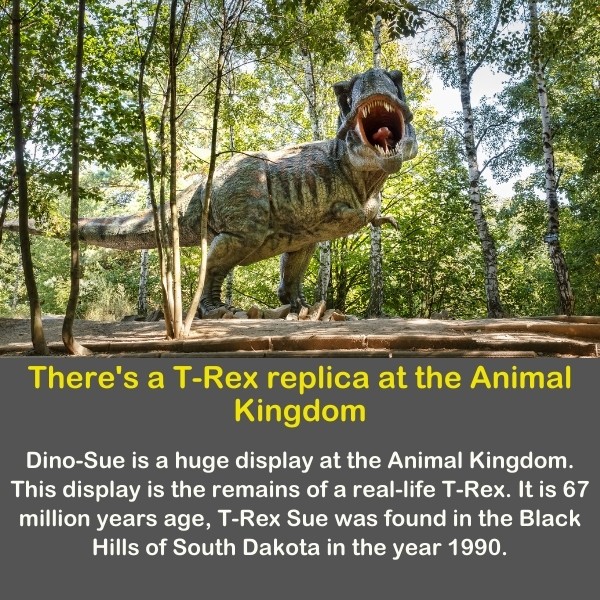 47. Disney World is One of the World's Busiest Vacation Destinations
 Disney World is considered one of the best vacation spots on the planet. The park's customer service, amazing attractions, entertaining shows, and outstanding food is what make Disney World a great vacation destination. According to some estimates, nearly 60 million tourists a year visit Disney World.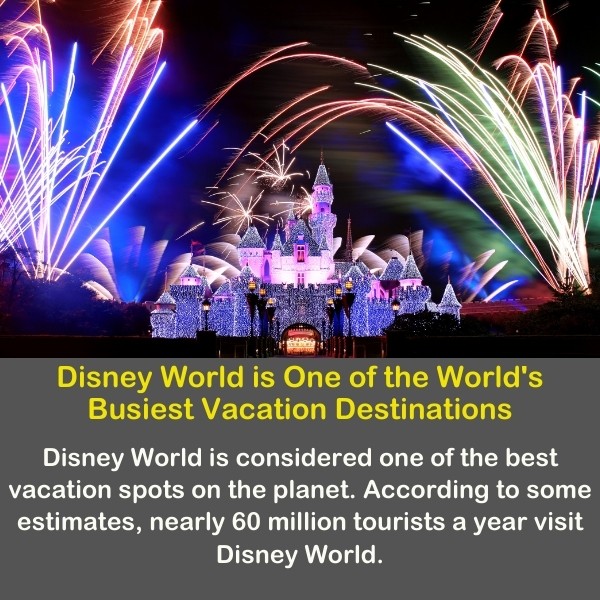 The Best Facts about Disney Theme Parks
 Disneyland has some very outstanding facts that help to make their park a memorable place to experience.
48. Transforming Disneyland into a Place of Christmas Wonder
 Disneyland is decorated into a place of holiday wonder every year. At least 150 tractor-trailers are used to haul decorations for the park's celebrations. Disney uses its own self contained power plant to pay for its electricity, and powering holiday lights is not a financial burden.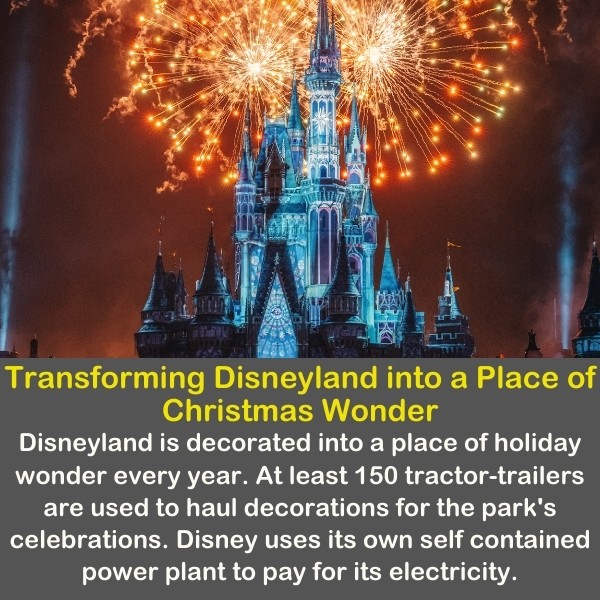 49. Disney World was only Closed Three Times
 Disney World stays open all throughout the year. The park hasn't closed but 3 times in the past 50 years. It opened in 1971 and shut down when Hurricane Floyd threatened the park in 1999, during 9/11, and in 2002 when the power failed. Disney World was open during the coronavirus pandemic of 2020.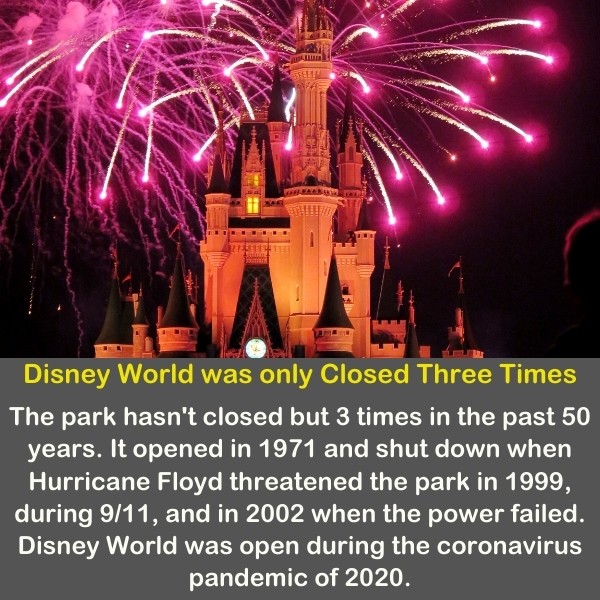 50. The Abandoned Water Park of Disney
 There used to be a water park at Disney World, but it closed after 2001. No official reason was given for the closer. However, many people believe that a string of accidents was happening sometime around 2001. They believed that Disney World wanted to avoid potential lawsuits and a bad reputation.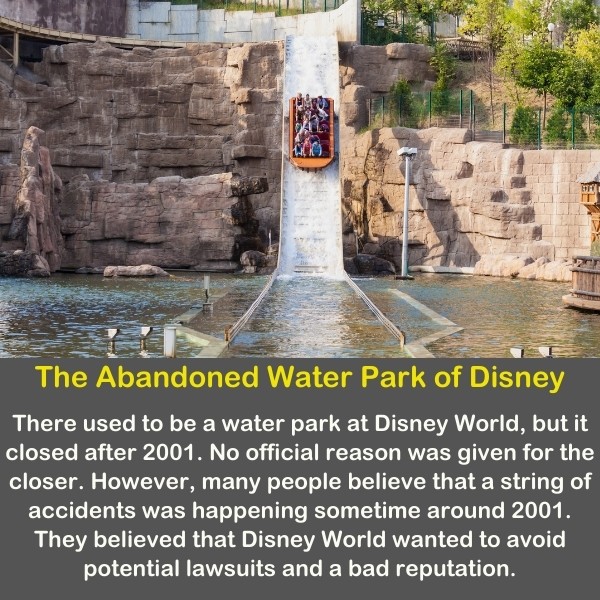 Want some more cool truths & secrets about Disney, check our more Disney fun facts. And for more fun, explore the Quiz Beez home page.